All about our Game Moderators 🦸‍♀️ 🦸‍♂️ 💥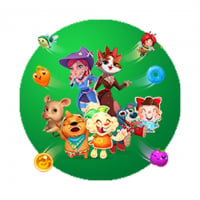 🌈 No account yet? Register here in 2 seconds and join a vibrant Community with millions of players! 🌟
Hi guys 👋
Good to find you here!
Whether you're new or to the Community or not, everyone gets a chance to become a Game Moderator one day... or not! At least, you can find out what's a Moderator and how to (try to) become one below - Ready? 👇👇
👑 What's a Game Moderator?
A Game Moderator (or a Mod) is a Community member with Super Powers 🦸‍♀️ 🦸‍♂️ 💥
Our Mods are here to make sure our Community remain a friendly and safe place for everyone. That means that they're fun people with a strong passion for King games. They're here to help you make the most of the Community, direct you to exclusive news, hot topics and assist you whenever you need help with your game. You'll find Moderators in each of our King games: like for instance Candy Mods, Farm Heroes Mods, Bubble Witch Saga Mods and so on. Although they are moderator for a specific game, you'll probably see them helping out all around the forums! - Treat them well (they're human) and they'll go the extra mile to help you out 😉
👑 What are a moderator's super powers?
They are volunteers, not King employees and they have our full trust to represent us - That's why we gave them the following super powers:
They have access to all info, bugs and news from the game so they are always on top to be able to help you out with anything game related
They can close your conversation should you not be respecting the House Rules.
They are in constant contact with us, CMs and therefore can report any issue at any time.
They can create Community Contests, giving away chances to win prizes!
And there'll be more to come shortly...
👑 How to become a Game Moderator?
It's all about having a good attitude - Contribute to the Community, help make it even sweeter and you might get a chance to become one of our Mods.
Here are a few things you can start with, for example: Share tips, help other players solve their issue, give us your feedback on your game experience, features or events, start discussions about the game and keep a friendly tone with everyone!
Please note that candidates are selected at the total discretion of CMs - You'll be contacted by PM should we want you to join our team but you can always share your interest with us too!
There's no need to have been here for too long, what matters is what you bring! Good luck 🌟
👑 What are the perks?
There are plenty: Monthly rewards, early access to Game levels and features, sneak peek at exclusive news, contribute to the Community content, join Community and Studio events and more!
So, tempted?
Well see you around the Community then and don't forget to have fun 🍒
👉 Pssst... Want to meet the Mods Team? Check HERE!
This discussion has been closed.