👋 Meet our Game Moderators 🙋🏻‍♀️🙋🏽‍♂️🙋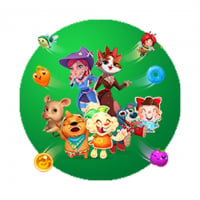 🌈 No account yet? Register here in 2 seconds and join a vibrant community with millions of players! 🌟
Hey guys!
You might have seen some of our Game moderators around and wondered: "Who are these guys?!" Well, wonder no more! Here's the list of our sweet Game Mods 👇👇
🍬 Candy Crush Mods
@Sukanta_Biswas @kiara_wael @bearwithme
🥤 Soda Mods
🍭 Friends Mods
🍏 Farm Mods
@PummyRaj @Lady_Choo  @encantes
🍮 Jelly Mods
@Nikolaos_Prodromidis @Princess_Jessica
🔮 Bubble Witch 3 Mods
💎 Diamond Diaries Mods
🐱 Pet Rescue Mods
🔮 Bubble Witch 2 Mods
🍌 Farm Super Saga Mods
🌺 Blossom Blast Mods
🃏 Pyramid Solitaire Mods
👑 Community Hub Mods
What a Team 🤗
Treat them well and they'll go the extra mile to help you out 😉
This discussion has been closed.