Official Announcement regarding AlphaBetty Saga's Development on Facebook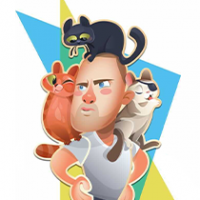 Crazy Cat Lad
Posts: 8,743
Community Manager
Dear Community,
We are sorry to inform you that from the 15th of December 2020, AlphaBetty Saga will no longer be available on Facebook. Please also bear in mind that in-app purchases were disabled from the 27th of October 2020 and onwards.
Please note that AlphaBetty Saga on iOS, Android and any other mobile app stores is not affected by this decision and continues its development.
We would like to extend a huge thank you for spending your time with us playing AlphaBetty Saga over the years, and we would love to have you join us in the many adventures that still continue here with us.
If you do not choose to play AlphaBetty Saga in any of the other platforms, we encourage you to pursue your adventures in our many other games. You can find a full list of them here.
FAQs
1. I play AlphaBetty Saga on Facebook. What does it mean for me?
You will no longer be able to access the game and it won't be playable from that platform. You can play from iOS and Android though if you choose to.
2. Why do you end AlphaBetty Saga's service on Facebook?
We understand that the decision to discontinue service for AlphaBetty Saga can come as a disappointment to you. Thank you for all your support over the years - we look forward to creating new and exciting games that you'll be sure to enjoy.
3. When does their service end?
On the 15th of December of 2020.
4. After the 15th of December of 2020, will I be able to open the game on Facebook and check on my progress?
No.
5. Can I move my game from Facebook to a mobile device and continue playing there?
Yes! Download the game from App Store, Google Play Store or Amazon Appstore to your smartphone or tablet. When opening the game, tap the blue 'My account' button on the start menu followed by 'Continue with Facebook'. Log in to your Facebook account and all levels and Gold Bars will be synced.
You can sync the game from Facebook to a mobile device even after the 15th December. The progress is still saved on your Facebook account.
6. Are there similar King games I can play on Facebook?
Yes, King has lots of games you'll be sure to enjoy. You can check them all out here.
7. What will happen to my in-game items?
Gold Bars can be synced to the game on a mobile device and also be used on any other platform. Boosters and other in-game items will be usable until the end of service on Facebook. After the 15th of December you'll no longer be able to play the game on Facebook and would subsequently lose any stored items except Gold Bars at that point. We recommend that you use them prior to this date.
If you have any purchased items in the game that you haven't been able to use before the 15th of December, please contact our Player Support here. Please note that free items cannot be replaced or compensated as mentioned in the game's Term & Conditions.
Leave a Comment