Contest Terms and Conditions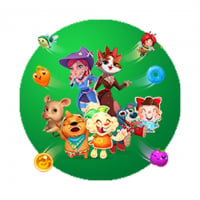 These Terms and Conditions apply to the promotion that can be found on the
Community Site.

King: Default terms and conditions for Community promotions

If specific terms and conditions exist for a King promotion (a "promotion" in these
terms refers to random prize draws or judged competitions, collectively referred to
in these terms as "Promotions"), such terms shall be identified when we promote
the Promotion. If there are no specific terms and conditions, the following default
terms and conditions shall apply to you instead:

1. This Promotion is operated and run by King.com Limited, a company
registered in Malta whose address is Aragon Business Centre, Level 4,
Dragonara Road, St Julians STJ3140, Malta (also referred to in these terms
as 'we', 'us' and 'our').

2. By entering this Promotion, you agree that you have read and accept these
terms and conditions.

3. You must be at least 18 years of age at the time of entry in order to enter this
Promotion.

4. You must not enter this Promotion if you or any of your immediate family
or household (whether legally related or not) is an employee, contractor or
sub-contractor of King or its associated companies, agents, professional
advisors, advertising and promotional agencies involved in the Promotion.

5. Only one entry per person is permitted. If more than one entrant enters with
the same or similar entry, only the first entry will be valid and entered into
this Promotion.

6. In the event the Promotion is a competition, you must only submit entries
that are your own work.

7. Entries that are incomplete, corrupt or illegible will not be accepted.

8. We reserve the right to verify any entries and winners. We are entitled to
refuse to reward prizes and/or disqualify you if make or attempt to make any
entry to this Promotion that is in King's reasonable opinion contrary to these
terms and conditions or by its nature unfair to other entrants. This might
include entries that are made by automated means, fraudulent, made in bulk,
made on behalf of another person, or made by hacking, cheating or
deception.


9. You must comply with the laws that apply to you in the location where you
access our Promotions from. If any laws applicable to you restrict or
prohibit you from entering our Promotions, you must comply with those
legal restrictions, or, if applicable, refrain from entering any of our
Promotions.

How to enter

10.The Promotion opens at such time as is specified in the first community post
by King inviting entrants to enter ("Post") (or if no such time is specified, at
the time of such post itself) and closes at the date and, if applicable, time,
specified in such post. Any entries outside of this period will not be valid.

11.You can enter by completing the task described in the Post and submitting
your entry in accordance with any specifications and hashtags as set out in
that post. Your entry will not be valid if you submit it in any other way.

12.You do not have to pay to enter any of our Promotions. However, you are
responsible for any phone or internet charges you may incur in entering.

13.Entries will not be acknowledged or returned. We do not accept
responsibility for entries that are lost or delayed or that we do not receive.

The prizes and winners

14.If the Promotion is a random prize draw, the winner(s) and, if applicable,
runner(s)-up(s) shall be drawn at random from the pool of eligible entries to
win the prize.

15.If the Promotion is a competition, the winner(s) and, if applicable, runner(s)-
up(s) shall be the entry(ies) which in the opinion of the King judging panel
(including an independent member) have best met the specified criteria as
set out in the Post.

16.The prize(s) and the number of winner(s) (and, if applicable, the number of
runner(s)-up(s)) shall be as specified by King in the Post. Only one prize per
person.

17.We will notify the winners by direct message or by the means described in
the Post.

18.If you have not claimed your prize within 30 days of us notifying you that
you are a winner and/or runner-up (as applicable) and/or you have not
provided the necessary information in order for you to claim the prize (such
as a postal address), you will forfeit the prize.
19.We will endeavour to send prizes to winners as soon as is practicable after
the closing date of each Promotion and within 30 days. Delivery costs are
included in the prize unless otherwise stated. To the fullest extent
permissible under applicable law, you are solely responsible for any taxes,
duties, import or other charges which may be payable in respect of your
prize.
20.We have the right to substitute any prize for an alternative prize of equal or
greater value.
21.Prizes are not transferable and cannot be exchanged.
22.You may request, if applicable, the King username, the first name, initial of
last name and country of the prize winner(s) by sending an email
to 
[email protected]
with a link to the Promotion community post. By
entering this Promotion, you give us permission to make your King
username, first name, initial of last name and country available in this way if
you win. You have the right to withdraw consent to our use of your personal
data for these purposes. To do so, please send an email
to 
[email protected]
with a link to the Promotion community post.
23.The outcome of the Promotion, including the decision of any applicable
judging panel or any other associated decisions, is final. No correspondence
will be entered into regarding the selection of any winners.
About your entry

24.You promise that all of the information that you provide to us in connection
with this Promotion is complete and accurate.
25.You promise that your entry will not contain anything (i) that is or could
reasonably be viewed as harmful, harassing, defamatory, libellous, obscene
or invasive of another's privacy; or (ii) which you do not have a right to
make available lawfully (including any material which infringes the rights
of any other).
26.If the Promotion is a competition, you promise that your entry is original.
You also promise that it is owned by you and you have not borrowed it or
copied it (or any part of it) from anyone else.
27.By entering the Promotion you consent that King (including our group and
affiliate companies) and selected third party partners may use, edit and
publish your King username, social handle, name, submissions, images,
videos, likeness, location and testimonials, whether all or in part, in any and
all media, in perpetuity, in any manner King deems appropriate for
promotional, news or publicity purposes, and for any other purpose
specified by King both during and after the Promotion, without any
compensation to you or any notifications, review or approval rights, or
permissions. You may withdraw your consent to our use of your personal
data for these purposes. To do so, please e-mail us at
[email protected]
28.All entries must comply with all the requirements as set out in the Post.
Legal stuff

29.The data controller for all personally identifiable information or personal
data that we collect about you as described in these terms and conditions,
the Post or in relation to our games is King.com Limited. King.com Limited
and its affiliates shall collect, process, use and share your personal
information for the purposes of running the Promotion and in accordance
with our Privacy Policy (
https://www.king.com/privacyPolicy)
. If you do
not agree to our Privacy Policy, you should not access our games or enter
this Promotion.
30.We accept liability for death of personal injury caused by our negligence or
that of our employees or agents and for losses caused by the fraud of us or
our employees or agents or any other liability which may not by law be
excluded. For other loss or damage, we will only be responsible for losses
that are a reasonably foreseeable consequence of our negligence or breach of
these terms and conditions up to the value of the winning prize. Losses are
foreseeable where they could be contemplated by you and us at the time of
you entering this Promotion.
31.We are not responsible for:
a. Losses not caused by our breach of these terms or negligence;
b. Losses that are not reasonably foreseeable by you and us at the time
of you entering the Promotion, including losses that happen as a side
effect of foreseeable losses;
c. any increase in loss or damage resulting from breach by you of any of
these terms and conditions;
d. entries that are delayed or which we do not receive;
e. technical failures or the lack of availability of our website and/or
social media channels where these are not within our reasonable
control;
f. any loss or damage of the prize during shipping where such loss or
damage is outside of our reasonable control;
g. any import duties or other taxes that may be payable by you in
relation to the prize; and
h. any failure to provide the Promotion or to meet any of our obligations
under these terms and conditions where that failure is due to events
outside of our reasonable control (in particular, we are not responsible
for the performance of any third party who might be involved in
providing the prize(s) although we will endeavour to minimise the
effect to you of any third party's failure).

32.We may wish to transfer all or a part of our rights under these terms to
someone else without your consent. You agree that we may do so provided
that the transfer does not significantly disadvantage you.

33.This Promotion and its terms and conditions shall be governed by the laws
of England. Additional rights which you may have as a consumer remain
unaffected by these terms.

34.Disputes arising out of or in connection with this Promotion will be
adjudicated in the courts of England, unless you choose the courts of your
home country instead.
This discussion has been closed.