Play your favorite King games on Windows 10!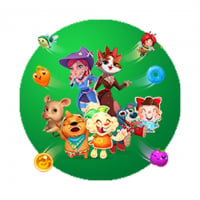 CommunityTeam
Posts: 1,951
System
Great news! Did you know that you can download your favorite game directly to your computer on Windows 10?

If you don't want to log in to Facebook every time you want to play your favorite game. Or if the game doesn't load or keeps crashing on Facebook you can download many King games directly to your computer and play via the Windows app instead.
You can continue from the same level and have the progress synced with Facebook or your mobile device by connecting the Windows app to Facebook or Kingdom.
Candy Crush Saga, Candy Crush Soda Saga, Candy Crush Jelly Saga, Candy Crush Friends Saga, Bubble Witch 3 Saga, Farm Heroes Saga and Blossom Blast Saga are all available in the Microsoft Store and can be played on your Windows 10 computer. 
To get to the Microsoft Store with all King games simply click HERE.
Are you having problems with the games in Windows 10?
Does the app suddenly crash, freeze, don't want to connect to Facebook, or just don't load? Don't worry, resetting the app usually fixes most issues.
Click on the Windows icon down to the left on your PC.
Choose 'Settings', the icon that looks like a cogwheel.
Go to 'Apps', then to 'Apps & features.
Find the game you have issues with and go to 'Advanced options.
Click on 'Reset'.
Still not working? Then a complete reinstall of the app is probably needed.
Again go to 'Settings and find the game under 'Apps & features.
Instead of choosing 'Advanced options' click on the Uninstall button.
Restart the computer.
Finally, download the game again from Microsoft Store.
Please be aware that when you reset or reinstall the game all in-game items like boosters and lives will be lost. Your progress and gold bars can always be restored by reconnecting the game to your Facebook or King account.
Still having a problem with your game? Get in touch with the Player Support Team HERE who will help you further! 
This discussion has been closed.