Is your browser ready for HTML5?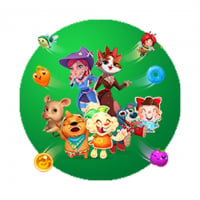 CommunityTeam
Posts: 1,906
System


You may have seen words like HTML5 and Flash thrown around with reckless abandon.  Well don't be afraid, we're here to explain what they are and how they affect you!

HTML5 and Flash are simply different technologies that are used to create and deliver awesome stuff on the internet, like videos and games.
Traditionally, Flash has been the standard but change is coming! HTML5 is a newer technology that is faster, more efficient and more secure for you and your devices.
We want to make sure that all our players have the best experience so throughout 2017, we are converting our games on Facebook and the Kingdom to run in HTML5 on desktop.
What does this mean for you?
HTML5 is less prone to security risks. It's also less intensive on your computer, which will make your games run faster!
Some older browsers do not fully support HTML5 so you will have to make sure that your browser is HTML5 compatible.
The good news is that most modern browsers are HTML5 compatible. The even better news is that even if yours is not, it is very easy to download one that is!
If you want to check whether your browser is HTML5 compatible, you can check on this page https://html5test.com. If your browser achieves a score of 450 points or more, then you should be fine! If not, you may want to either, update your existing browser or try installing another, more HTML5 ready, browser.
What browsers do you recommend?
There are many choices of browser and each offer something a little bit different, but in the end, you want to make sure it is optimized for HTML5 content.
We recommend you use one of the following browsers to get the best experience when playing our games.


Recommended Browsers
(windows and mac)
https://www.google.com/chrome/browser/desktop/index.html
http://www.mozilla.com/firefox/upgrade.html
http://www.opera.com/computer
(windows only)
https://www.microsoft.com/windows/microsoft-edge
(mac only)
https://www.apple.com/safari/

Candy Crush Soda Saga only (if you are using an older version than Windows10)
https://www.microsoft.com/en-us/download/internet-explorer.aspx
Now you may already have one of the recommended browsers, great! It's still useful to make sure you keep it up-to-date - just to keep everything running smoothly.
To check that your browser has all the latest updates, visit the following link https://www.whatismybrowser.com. If the browser is not up-to-date then simply click on the Update button to install the latest version!
Touch Screens
If you are accessing our games via Facebook/Kingdom with a touch screen enabled desktop or laptop, you may not get an optimal experience.
When playing on a desktop/laptop, mouse and keyboard is always the supported and preferred option.
If you want to play our games with a touch screen, we recommend you download our dedicated mobile versions from the relevant app store.
You should now have all you need to make sure you are HTML5 compatible and able to enjoy our games without interruption. 
Now that you know all about browsers, why not take a look around our vibrant Community? Click here to enter our latest competitions to win Gold! 
This discussion has been closed.