Meet our New Team of Superstars🌟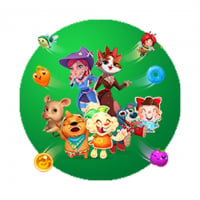 Community_Team
Posts: 1,845
System
⭐️⭐️⭐️
You've sure seen them around helping other players, giving insightful advice, welcoming New Bees and chatting and engaging with all of us: the Superstars!!
⭐️⭐️⭐️
The Superstar program is the way we can recognize and reward those members who contribute the most to our amazing Community. Superstars are, as the name would suggest, real stars of the Community!!
⭐️⭐️⭐️
This is the current Superstar team (in alphabetical order) :
@bearwithme - sweet and helpful bear lover, you'll want to cuddle her
@Chicken_Slayer - the nicest "crusader against Chickens" you'll ever find... also in Bubble
@Debrichmond - Planting seeds of friendship and making them grow as the gardener she is.
@Elsa - Mother of Superstars. Relentless and passionate like no one else
@firebombmarkus - his friendly and calm way will conquer your heart
@Foley1362 - our sport coach, always ready for action and new challenges
@Glenn1972 - 100% wisdom and empathy guaranteed.
@kiara_wael - one of the most passionate pet rescuers in the world
@KimElston - A new Star that pops bubbles with expertise
@Lynette - Master of Level Videos, she knows Pet Rescue inside out
@mysticalmysty - gentle and generous, unfailingly there to help you out
@PummyRaj - kindness and wisdom in every helping post
@Sofia1992 - Friend of Friends, full of imagination and creativity
@Sukanta_Biswas - expert knight of the Candy Kingdom and beyond
@wafercookieflippers - a Superstar, ready to shine with a flip of her whale tail
⭐️⭐️⭐️
If you want to know more about the program, its benefits and rewards, or if you are interested in becoming part of the team, you can read more about our Superstars here!
⭐️⭐️⭐️⭐️
Leave a Comment