👑 The Kingdom Games - Vote for our King Champion! Semi Final!! (Finished)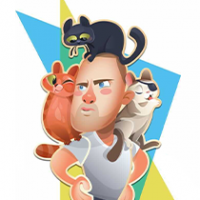 Crazy Cat Lad
Posts: 11,431
Community Manager
👪 New to the Community? Register here in just 2 seconds!
It's already time for the Semi Final in the Kingdom Games!
🤼 Sadly, we had to say goodbye to Tiffi, Morgana, Bubblegum Troll, Darwin, Jenny, Mr Toffee, Rancid and Sinbad in the first qualifier round. In the Quarter Final Misty, Kimmy, Wilbur and Fidget did lose the battle and are out of the game as well.
🏋️ This leaves us with Yeti, Amelia, Jelly Queen and Doggie who are still in the running to become our first King Champion! 
🤸 We have split them them up in 2 new teams of 2. The fight will be ruthless so don't forget to support your favorite Team! The 2 characters in the winning team will battle against each other in the Grande Finale!
Who will make it to the Grande Finale? Ready? 1, 2, 3 VOTE! 
👇 Vote for your favorite Team below 👇
3 lucky winners will be randomly picked among those who voted and commented and receive 30 Gold bars each in the game of your choice! 
How to participate?
-Select your favorite Team and submit your vote at the bottom at this page.
-Comment below to let us know why they are your favorites!
Remember to comment - Our heroes need your good words! No comment, no chance to win! 
To the Polls everyone and may the best win 🤗
You have until Friday 31st of July, 12pm CET to participate. Terms and Conditions here.
👑 The Kingdom Games - Vote for our King Champion! Semi Final!! (Finished)
153 votes