🎤 Meet our first Featured CM of the Month!
HERE
🌶 News & Hot topics
HERE
! // 🎀 Discover all King games
HERE
!
😎 Calling all math wizards 😎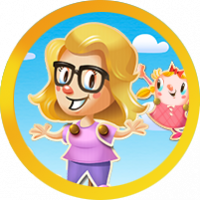 Elsa
Posts: 32,011
Community Hub Moderator
Want to participate, but have no account, then register here in 2 minutes 
"@PrettyBubbles, I don't understand these math things," says @Elsa. "I thought my math was pretty good in school but these puzzles make no sense to me."
Sometimes it might not be a better of just being able to do simple math because sometimes logic is included with it. Let's see if our friends here can get the answer.
In this picture puzzle, there are some logical number equations. These equations are incorrect Mathematically but these equations are correct logically. Try to find the logic of these equations and then solve the last equation.
Please put your response in a spoiler box.

🌈_________________________________ 🌈_____________________________ 🌈