🎨 New in the Hub: The Art Nook!
Share your King Fanart!
☀️ Introducing the King Accessibility Heroes! Check it out
HERE
🌶 News & Hot topics
HERE
! // 🎀 Discover all King games
HERE
!
(BEENDET) 🎇✨🎉🎊 Herzlich Willkommen zur 1. Jahres Feier - Internationalen Bereiches 🎊🎉✨🎇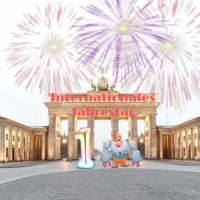 Spinnifix
Posts: 17,025
Ambassador
Wir 3 Botschafterinnen haben uns sehr viel Mühe gegeben einen fantastichen, spannenden und lustigen Wettbewerb bieten zu können. 😉
Bitte denkt an die DEUTSCHE Sprache:
Ein Abzeichen gibt es auch, leider ist es noch nicht vorrätig!!!
Ihr könnt 1 - 3 Abzeichen bekommen, wenn ihr auch die 2 anderen Bereiche besucht. Das Abzeichen gilt wie immer nur für deutsch posten!!!
Der Wettbewerb ist folgendermaßen:
Es gibt 3 Bilder zu finden, die in meinem Bereich versteckt wurden. Die Bilder kommen aus den 3 Ländern = Deutschland - Spanien - Frankreich.
Sie repäsentieren Weihnachten & Ostern und Urlaubsort - je ein Land
Ich habe es etwas einfach gemacht: Es steht unter den Bildern zum Beispiel: Weihnachten - für den Wettbewerb
Eure Aufgabe ist es:, die Bilder zu finden und unten offen zu posten ( kein Spoiler ) Aus welchem Land und dem Thread zu bennen!!
Es werden 5 Gewinner mit je 20 GB ausgewählt.
Wer alles richtig gewußt hat.
Der Wettbewerb geht ab heute den 12.April - 7. Mai 2021 und ist um 15 uhr zu ende.
🤗 Da wir Botschafter den internationalen Bereich ohne die dazugehörigen CMs nicht hätten, möchte ich mich auch noch dafür bedanken. 🤗
an @Lola_Pop @LadyRaffie @QueenMia 💖 & meine 2 Botschafterinnen @Nat09 @hechicerilla 💞
Ein Dankeschön geht auch an @Crazy Cat Lad für die tollen Abzeichen die immer wieder toll aussehen. 💓
🧨Ich wünsche Euch viel Spaß und lasst es krachen 🧨

💓
Where there's a will, there's a way
💓 
😉
One look at my profile would help everyone!
👍 
Did you know that there is now an
international room
for German - French - Spanish?
 🍐
Player Expert for Papa Pear
🥥
Leave a Comment