🎨 🖌 Community Artists Workshop! King Community Forum signatures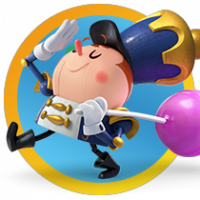 Pounawea
Posts: 3,758
Community Manager
🌻 New here? Sign up to participate HERE!
Hello King-tastic people!
We are creating a new space in the forum: the King Community Artist Workshop for signatures!
We want to connect community members that might need some help creating their signatures & community members that can help to create them!
Did you know...?
Once you reach level 4, you can get your own signature! 🙌 🥳 Check out HERE all the different King Community Levels
So, if you have already reached Level 4, remember to head to your profile and add some spice and colors to your comments by adding a signature that represents you!
Do you want a nice signature? It's Here!!
Drop your request in this thread. In this community, we have many great artists and they might be able to help you!
Who can ask for a signature?
Any person on the forum may ask for a signature. Please note that you will be able to set up your own signature once you reach Level 4.
In your request, please say what kind of signature you would like (style, favorite game, content, text, colors, etc.) 
Adding credit to the artist under your signature is optional, but always appreciated.
Who can make a signature?
Any community member who is inspired by a request is welcome to make a signature. Just be sure that your proposal fits the current forum general rules and specifically the ones reminded below:
Signature Guidelines:
A forum Signature is your personal signature at the bottom of all your posts & should represent you. It should not to be used as a Billboard or Advertising Space.
No one wants to scroll through a page-long signature, just to be able to read forum posts, so please keep signatures modest.
Ideally use up to 1 image.
Images size: for example, Community Managers image signatures are 686 x 120px. We recommend
Images will be scaled to a maximum height of 150px.
Also, note that signatures can be up to 500 characters long.
👉️ If you want our Game Mod @Elsa to lend you a hand, she's got some wonderful templates of your favorite games to choose from! Here's a sample:
Please note that Forum staff may remove inappropriate signatures. Check out HERE our Terms of Use.
Let's get this workshop up and running! 💪 🥳
Oh, and if you need a guide to create your signature, we have one right HERE !
Have a delicious day and see you around the forum! 🍬 🍬
👨‍👩‍👦‍👦   New to the Community? Sign up HERE in 2 seconds!