🖼 🤩 Share your Fanart!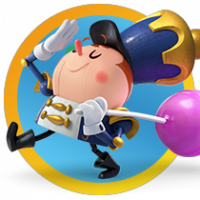 Pounawea
Posts: 3,747
Community Manager
🌻 New here? Sign up to participate HERE!
_____
Dear community,
We would love to see your Fanart!
As long as your artwork features any of our King Games (Candy Crush Saga, Candy Crush Soda, Candy Crush Friends, Candy Crush Jelly, Farm Heroes Saga, Pet Rescue Saga, Crash On the Run, and more!), we'd love to see it! 
Upload your artwork in the comments below. 🖼 ❤️ 🤩
Make sure the image is saved as follows: CandyCrushSaga_FanArt + your Community nickname. For example, I'd save my image as ' CandyCrushSaga_FanArt_Pounawea', then upload the image in the comments below. 🙂
Guide on how to upload an image -> HERE
We are so looking forward to seeing your artwork. Let's create together a wonderful Community Hub Art Gallery! 🖼 🤩
Have a delicious day everyone, and see you around the forum. 🍬
👨‍👩‍👦‍👦   New to the Community? Sign up HERE in 2 seconds!