🎶 Meet the Team behind the audio magic and give us your feedback
HERE!
🌶 News & Hot topics
HERE
! // 🎀 Discover all King games
HERE
!
📬 New Monthly Newsletter!
Don't miss it!
🚗 Mein Tagesausflug 🧭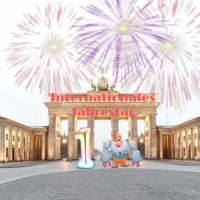 Spinnifix
Posts: 18,565
Ambassador
Dieses möchte ich gerne mit Euch teilen 😉
Heute hatten wir tolles Wetter nach dem Gewitter gestern und für heute war der Ausflug nach Blockhausen geplant. Es liegt bei Dorf Chemnitz und Mulda.
Es war ganz schön was los und von Corona keine Spur. Natürlich halte ich mich an die Regeln und behielt es im Hinterkopf, da ich keine Maske trug.
Es ist an der frischen Luft und es verteilte sich gut. Ich fühlte mich sehr gut mal wieder unter Menschen zu sein und es hatte mir gut getan.
Natürlich habe ich Bilder machen lassen von meiner Schwester und sie schickte sie mir jetzt.
Wer interesse hat, dort mal hin zu fahren, sollte es tun. Man kann alles im Internet erfragen.
Hier meine Bilder dazu:
Dieses wird alles aus Holz gefertigt.
Wenn ihr dieses Bild ran zoomt, kann man die Entfernungen zu verschiedenen Kontinenten und Ländern sehen.
Ich habe soviele Bilder.
🚗 Hier könnt ihr euren Tagesausflug posten: 🚗
Viel Spaß

💓
Where there's a will, there's a way
💓 
😉
One look at my profile would help everyone!
👍 
Did you know that there is now an
international room
for German - French - Spanish?
 🍐
Player Expert for Papa Pear
🥥
Leave a Comment