🎈🎉🎁 Happy Birthday 🎊✨🧨 dear Lim 💐🍄🍀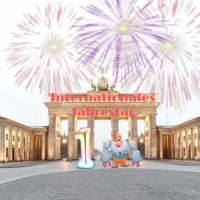 Spinnifix
Posts: 18,423
Ambassador
I have not forgotten you, because you gave me your date in my area.😉
In Malaysia it is now the 16. 6. so I would like to wish you a happy birthday.
🍾 Presents, laughter, sunshine, it must be your birthday! I wish you all the best and all the best for this And I'd like a piece of the cake! 🎂
😘 Stay safe and healthy. I would also like to thank you for marking, so I will always be notified. 😎
💖 All the best 🤗
🍷 Warm greetings from Germany 😀

💓
Where there's a will, there's a way
💓 
😉
One look at my profile would help everyone!
👍 
Did you know that there is now an
international room
for German - French - Spanish?
 🍐
Player Expert for Papa Pear
🥥