🤩
Wanna get an animated card featuring your fav character?
Choose your own and send it to your loved ones
HERE
Say hi to the team behind the Audio Magic!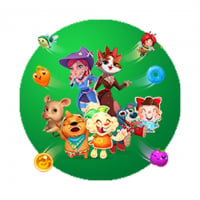 CommunityTeam
Posts: 1,954
System
🌻 New here? Sign up to participate HERE!
🌷 Read our House Rules HERE!
Hello King-tastic players!
It's time to meet our Audio Stars: the team behind the sounds and music in our games! 🤗
🎶

Meet Vanesa, our awesome Audio Director!



🎶 Say hi to Dom, our Audio Producer, in charge of the production of music tracks and sound effects for our games!
🎶 Wanna get to know our Audio Designer & Composer Seb? Click play!
🎶 Watch Sound Designer & Composer Edu work his magic!
🎶 Listen to our "Nanana girl"- the great Sound Designer & Composer Gabriele!
🎶 Meet our rockstar, Senior Composer and Sound Designer Guillermo!
Just welcome them to the Community with a sweet message right here below!
Don't forget to browse the Audio Lab for more and give us feedback about the sound in your favorite game:
Leave a Comment