Member of the Month-July 2021: Greymane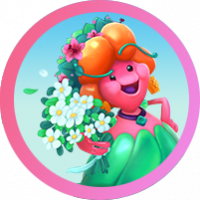 Lola_Pop
Posts: 11,997
Community Manager
For the month of July, our Community Managers and Game Mods have decided the Member of the Month is...
✨👏👏👏 Congratulations!! 🏆🥇👏👏👏
Our @Greymane embodies the soul of the Community perfectly: fun, witty and cheerful and full of energy!
You deserve the Member of the Month badge, a permanent entry in the Community Hall of Fame and awarded you with 200 Gold Bars to your favorite game.
🎤 And now it's time for us to listen to our brand new Member of the Month? Let's pass the mic to her!
🔸Which of King's games are you currently playing and what do you like about them? Which one is your fav? 
Haha I have experienced all king games except COTR and CCJS. But my favorite is CCS. No wait it's BBW👻. Can I have 2 faves?🤣 I love my F5 team in CCS and the in-game events. I also equally love building my home in BBW and the banter between Stella & Wilbur.
🔸What's your best memory with King games? And on the Community? 
My best memory is meeting really funny people in the gifs section of the community last year. Those people made my days together with.. believe it or not, that cheater FC🤣. Kidding, but all my best memories here relate to the people I have come to interact with in the community and also participating in the fun contests. Also me being a MoM now (not literally😁)
🔸Do you have any expectations from the Community? 
Hmm..I dont know now that you have asked. I will probably regret not saying something later.
🔸What do you like the most about our Community?
I love the fun contests and the friendliness of the members. Also the fact that we are from different time-zones with so many differences but we can just chill and have fun.
🔸If you could change anything about King (games, community, etc), what would it be? 
Easy, I would make scrolling through levels in CCFS easier, oh and also put funny easter eggs in random levels as you play along in all the games for people to find, so it will never get boring.
🔸How did you find the Community, how long have you been around? 
I found it randomly on the internet while searching for something else and created a kings account out of curiosity🤣. That's when I started playing all the other king games. I joined somewhere around Sept/Oct last year. Before that I used to play CCSS and never knew this place existed.
🔸Anything else you'd like to share? 
This is the second thing I will regret not answering properly🤣 I can feel it in my bones. Anyway I love you all. Thanks for getting me here, honestly I never imagined this would be possible since I am not as active as others, so I can finally rest in peace👻(kidding), but I am so happy😊
Isn't she sweet? Now it's time to thank her for bringing her joyful personality onto the Community! I can start: thanks for being YOU, @Greymane ! ❤️
Comments
Leave a Comment