Meet the Community Managers Team!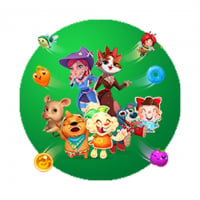 CommunityTeam
Posts: 1,955
System
Hi everyone and welcome to the King Community!
Thanks for coming and don't be shy, this is your home! We are happy to have you here. Together, we'll make this place sweeter than ever.
In case you're wondering what this is the King Community about, it's all about a group of players from all around the world helping each other make the most out of King games. But not only that! Would you like to know the team that is working behind the scenes? Keep reading and get to know the Community Managers Team at King!
Meet the Community Managers (or CMs)
Each CM is in charge of a few games and makes sure to bring fast updates and sweet news to the Community! 
Meet @LadyRaffie -  a passionate traveling lover and especially if that means getting lost in the middle of a desert paradise island 🏝. She's also a sports lover, enjoys photography, is a film and series geek, and she just likes giraffes 🦒 ( I know.. it's weird ). She's in charge of the Candy Crush Soda Saga Community. You'll see her around sharing news and tricks, taking part in conversations, and throwing some sodalicious gifts from time to time. 
Meet @Crazy Cat Lad- Cat adorer who enjoys the beach, wine, kettlebells and also helping you in Candy Crush Saga and Pet Rescue Saga.
@QueenB- QueenB loves free food. She will assist you with anything on Farm Heroes Saga and Bubble Witch 3 Saga.
@Lola_Pop - she can't resist swimming and splashing around as soon as she sees water: may it be the sea, a lake, a river, or a swimming pool - even in winter. You'll find her in Blossom Blast Saga, Pyramid Solitaire, Farm Heroes Super Saga, Bubble Witch 2 Saga and Diamond Diaries Saga. 
Meet @FluffyDinosaur - born in Stockholm, Sweden, and loves to play too many video games and trying new types of food. You can find FluffyDinosaur in Crash On The Run and Candy Crush Soda Saga.
Meet @Minatozaki - Positive vibes coming your way as a music and sports enthusiast, loves spicy Korean food and solo travel to capture that perfect landscape photo that will be lingering in your memory. You will see Mina around Candy Crush Friends Saga and Candy Crush Jelly Saga.
🌟 🍭 🌟

Now you know everyone! Don't be shy and feel free to introduce yourself to the King Community HERE. We want to know all about you!
Have a King-tastic day, and see you around the forums!
⭐️ Community Managers - Hall of Fame ⭐️
They are not CMs anymore, but they will always be part of this Community!


We are not alone! We have an incredible team of Game Moderators
Our Game Mods are the heart of the Community: they help us keep it sweet and friendly - You can check our Team here!
Find out here more information about Game Moderators in the King Community.
Meet the Kingsters behind the Kingdom's magic
Meet the people behind the scenes, the ones creating all this delicious universe that is the Kingdom: Game artists, Level designers, Content specialists, Game Producers, Player support agents... Come and find out more about who we are! Right here.
Leave a Comment