Member of the Month -June 2022: LeFlarcane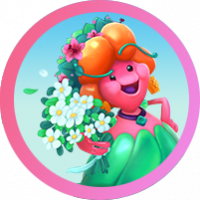 Lola_Pop
Posts: 11,997
Community Manager
Our Community Managers and Game Mods have decided the Member of the Month for June 2022 is...
✨👏👏👏 Congratulations!! 🏆🥇👏👏👏
Six months in the Community have been enough to make him an admired and beloved Community member. Fun, playful, and kind, @LeFlarcane deserves the Member of the Month badge, a permanent entry into the Community Hall of Fame, and 200 Gold Bars for his favorite game!
Are you ready to hear what our newest Member of the Month has to say? Sit back, relax and listen to him!
💫Which of King's games are you currently playing and what do you like about them? Which one is your fav?
Bubble Witch 3 Saga is my main game and I like most of my favourite game is perfect aiming and bouncing so that's why I love the BW3. Also, I played the Candy Crush Saga so ridiculously fun.
💫What's your best memory with King games? And on the Community?
My best memory with the King games is playing level 236 in Candy Crush Saga many times, this board is full of mystery candies and was so ridiculous to play oh my! That's so funny... Well... And in the community, we played a lot of words and counting games with new players.
💫Do you have any expectations from the Community?
This is what I expected decently about the Community to become new friends and that made the Community lovely. Looks pretty and shows good affection.
💫What do you like the most about our Community?
This is what I like the most about the Community: having a great number of friends like loved ones and making the best friends in the community. So they can compete with others in games.
💫If you could change anything about King (games, community, etc), what would it be?
This game changed my life, that sounds addictive to me because of my favourite character in the game. Stella was my favourite character in Bubble Witch 3 Saga.
💫How did you find out about the Community?
So I found the Community when I played Bubble Witch 3 Saga on the road to the 1000 levels and I noticed to get the Level 1000 badge in the Community.
💫Anything else you'd like to share?
Thank you so much for everyone who makes the Community friendly and lovely. Totally, I'm a lovely LeFlarcane! 😍💓😘🌹
Thanks, @LeFlarcane, and keep playing and having fun with us. Now...it's time for a load of love for you, my friend!
Comments
Leave a Comment