Crushilicious Games - Season 1 Join HERE!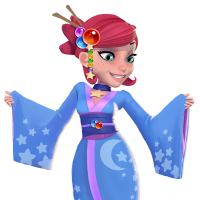 Minatozaki
Posts: 577
Community Manager
Welcome dear Candycatchers to this brand new era. We heard you, and I'm here to present the Crushilicious Games! Officially coming to you!
An Era where friendships and teamwork will be the most valued. Gather all your friends, conquer all the points, and win amazing prizes!!!
Our first season will be between Friends and Jelly! You will see this same thread on our Jelly/Friends community.
Here's some information you need to know before entering the competition.
1 - You can only join one side. So choose wisely.
2 - To validate your entry in the Crushilicious Games, you need to comment down below that you will be joining and which team you will be representing (If Jelly or Friends)
3 - The Games will last for a whole month, be sure you will be active throughout the month to help your team as much as possible!
4 - All Games will have different content, whether in-game or in-community.
5 - New Games will be posted weekly on random days. They can either be posted on Jelly's section or Friends' section. Therefore you need to keep an eye on the new topics.
If you think you are one of the Jelly or Friends Candycatchers, join NOW!
More information about the prizes, dates, games, etc., will be up soon!