Member of the Month - April 2023: Andres-2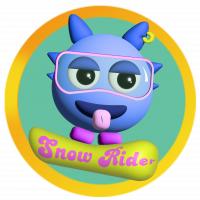 Here we goooo 🥁🥁🥁 Meet our Member of the Month for this April - @Andres-2.
Our big congratulations! We've noticed your outstanding support in the community and decided that your input in our Kingdom shouldn't be unnoticed.
As a token of appreciation, you deserve the Member of the Month badge, a permanent entry in the Community Hall of Fame and 200 Gold Bars for your favorite game.
🎤 Do you want to know our Member of the Month more? Let's pass the mic to @Andres-2!
💫Which of King's games are you currently playing, and what do you like about them? Which one is your fav?
I currently play Candy Crush Saga, Candy Crush Soda, Candy Crush Friends, and Candy Crush Jelly.
My favorite game is Candy Crush Jelly, I like its music, it differs from the other candy to be able to face Jelly Queen, Cupcake Carl and Liquorice Larry thinking of a strategy to defeat them.
💫How long do you play our games?
Quite a while I don't have an exact year
💫What's your best memory with King games? And in the Community?
My best memory with the King games in Candy Crush Soda, when Sprinkleshell appears in the levels it helps to clear them, it's a shame he doesn't appear very often in the game anymore.
In the community the discussions that are created are wonderful, keep up the good work.
💫What do you like the most about our Community?
Everyone is friendly, they help each other and the contests are fun in which we can all participate.
💫How did you find out about the Community?
A technical problem in Candy Crush Jelly I was able to know the community.
💫Anything else you'd like to share?
Thank you very much for choosing me as a member of the month and always keeping the community friendly.
💫If you could change something about King (games, community, etc), what would it be?
Candy Crush Soda to Sprinkleshell a 3D model like the other characters and Candy Crush Jelly new features and new events for the game to be fun.
Thank you @Andres-2 for sharing your thoughts with us! We couldn't be happier to know how much you enjoy our games and the community. Let's keep having fun and helping our players! ❤️
Comments
Leave a Comment