Member of the Month-December 2022: maf34100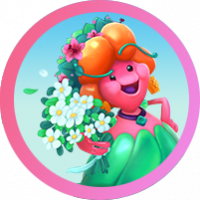 Lola_Pop
Posts: 11,958
Community Manager
For the month of December, our Community Managers and Moderators have decided the Member of the Month is...
✨👏👏👏 Congratulations!! 🏆🥇👏👏👏
Our dear @maf34100 has become a beloved member of our Community, always cheerful and engaged.
You deserve the Member of the Month badge, a permanent entry into the Community Hall of Fame, and to be awarded 200 Gold Bars for your favorite game.
🎤 Would you like to know more about our brand-new Member of the Month? Let's pass the mic to him/her!
💫Which of King's games are you currently playing, and what do you like about them? Which one is your fav?
My favorite game is BWS3, and I have played it for almost 4 years. I love the way the game is set up, and it took me some time to figure out its secrets and develop a strategy for approaching all levels. I have explored all the ways to collect standard and in-game boosters, and I like to share them with the members of the BWS3 family.
I play CCFS for a year. I like the characters of the game and their well-designed movements. There are also side events that are challenging and offer boosters and badges. 
A few months ago, I joined CCS, a legend of King's games. I play just to relax, and it seems a little less intense. The side events are easy to play and give you boosters, but they lack badges.
Last month I started CCSS, which seems like a combination of CCS and CCFS. 
In the past, I played CCJS, FHS, and PRS, mainly for the badges offered.
💫What's your best memory with King games? And on the Community?
My best memory from BWS3 is the discovery of the game approach with the usage of 2 golden hats and a hidden spell in a level. I also managed to do this on 2 levels during Leo's active life.
From CCFS, my best memories come from the weekly challenges and the champion of champions challenges.
My best memory of the community was on several team challenges in getting together and interacting with other teammates to achieve a goal.  Also, Community was a place to communicate with people during the hard period of covid.
💫Do you have any expectations from the Community?
I would expect the Community to continue to be a place of good humor, fun, and interesting and challenging things to do.
💫What do you like the most about our Community?
It is a safe, welcoming place for everyone, and open to sharing ideas.
💫If you could change anything about King (games, community, etc), what would it be?
Reactivate the PMs.
💫How did you find out about the Community?
Accidentally from King's home page trying to resolve some technical issues for BWS#
💫Anything else you'd like to share?
Thank you from the bottom of my heart for selecting me as December's Member of the Month. I am truly honored and shocked by getting two rewards in one day.
Indeed, what a way to start the New Year, dear @maf34100! Our Crusher AND Member of the Month
🙌

Thank you for this amazing interview!

Now it's time for your fellow players to show you their love and respect, here below!
Comments
Leave a Comment