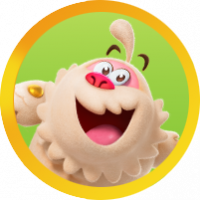 Annie_Soutter

Level 2
PLEASE HELP!!!  184 is impassable the way it is and the game help reflects a different version of it. Please see earlier post for details. 
About
Username

Annie_Soutter

Joined

Visits

190

Last Active

Roles

Member

Points

92

Badges

15

Posts

90
Comments
Hi Diamond Lim, been a long time since I've been on here but I have to say that 2716 is not achievable, there are 4 diamonds to get and after 50 games (I know this as I get 1 diamond a game and my diamond total has advanced by 50). The turns are used up before I can uncover the additional blasters which are hidden at the…

Hi there, thank you for all the info and once again looking at those screen shots I don't think any of my 231 tries at this game looked so easy, some of them not even making it through the 1st level before the turns ran out. What I'm trying to say is that the programming is not allowing for any skill level in the players,…

Hi Diamond Lim ( in another place) Im stuck very badly ( 2 weeks worth of hair pulling) on 627. Ive used 18 gold bars which didnt help at all and nearly all my boosters. Im hardly getting to the last row perhaps 1 in 20 games. Not nice but apart from that the challenges are still good if I can ever get to open the chest…

Thanks DL for getting back, this is on my android phone, gave up on the computer.

Hi Diamond Lim I am on a phone,Nokia 7, and it is sending the hammers, I dont know if my team are getting them, I have been able to accept 1 lot of lives from my team member and since then none. Really I shouldnt have to update as I only put it on my phone a couple of weeks ago. My team member is sending the lives and it…

It has happened again, so it appears that I am able to receive lives but not able to access them, it is on the screen but Im not able to utilise or go back so have to shut down to get back into the game, help please

Hi Diamond Lim, I seem to be full of gripes but that is not like me. I seem to have been demoted from a level 3 to, today, a level 2 in the community, can you help? Also I was so disappointed that I hadnt heard from the team about the glitches I decided to take the game off entirely and see if that fixed it once and forall…

No recharging still not working, so no rewards on reaching that destination

Hi Diamond Lim I have an interesting choice now, a more powerful hammer or lives recharged faster, neither one will work as I havent got any hammers to make more powerful because I dont get any tools and the recharge faster doesnt work, so I will take the recharge faster and maybe this time it will work, Ill let you know

THanks Diamond Lim No I haven't purchase any because Im afraid that if I do I wont get them. I am not getting any of the tools awarded or the boosters so Im only existing on my gold bars on finishing a level and the destination prize . I am keeping the gold bars until I am REALLY desperate. It is a bit of a mess on a PC…

Hi Diamond Lim, no I already have the Diamond Diaries Saga friends list that comes with the game and that is the one that you send the lives to. There are quite a few names there which I always send lives to, once sometimes several times a day. I was wondering how it works and how often the lives can come through or go…

Hello Pummyraj I am disappointed, I have trouble seeing the phone with the small screen, and now not getting any tools or able to claim 1/2 the prizes because of glitches I will probably stop. I am on 313 with no end in sight, very hard with no tools, I only ever get probably 1/3 to 2/3 finished before the turns run out…

Hello Pummyraj Settled down again after 306, have slowly moved on and have discovered another problem. I dont get any tools, didnt realise but havent had any in probably 4 destinations, I have deleted game and put it back on again. It didnt fix the tools problem but havent tried the half time recharge. Still waiting for…

What is with Level 306???? I have used all my saved gold bars 27 to try and get through this level. Most times even tho I can get out the 1st exploding thingy, although most times one of the birds opens the diamond and it drops so you are not able to access the 5 lives. Surely the birds are meant to help. I am getting…

Hi there Pummyraj Still havent heard from your crew, I passed that level and one of the choices for the next joourney was the recharge one but as much as I would have liked to take it wasnt going to try it again without the feedback. Im going to delete the game and reload it but I have already done this and it didnt help…

Hello again Pummyraj Well , here I am again with the same problem, Just went on to 261 and thought Id try the faster recharge but its not happening again, I accepted Cairo as the destination. You will need to pass this on because I'm not getting these prizes and it takes so long to get one that I don't want to lose them,…

Happy New Year, Pummyraj Thank you for getting back, the 1/2 time recharge continued until yesterday when FINALLY I got through to the next destination and chose a different prize. Everything seems right with this one but I will choose that time one again and will let the team know what happens and if its successful. Thank…

Thank you PummyRaj I realised there probably was a bit of a problem with the holidays. I am going forward very slowly, I have progressed to 215 but very difficult without prizes. Love the game. Looking forward to a resolution🤗

Merry Xmas everyone Still havent got any 1/2 time recharge and now, am not getting any prizes have been awarded 2 hammers and both times did not get anything. I have been on the same level 209 for 3 weeks until just now. These levels are incredibly hard for early levels. I have had 2 hammers from the start all up. Thank you

Hi there, in regard to previous question, will you be able to help me because its taking me for ever to get to the end of this section. I have tried deleting and putting on again so is it just a problem for me or for everyone?