🏅Badges! Join the Weekly Race
HERE
and share your scrapbook
HERE
🍩 Friends Battle Royale! Vote now
HERE
🌈New in the Community? Say Hi
HERE
🦝 Rachel's back in town! Tell the studio what you think
HERE
💰 Guess which is our sweet raccoon's art style and win Gold
HERE
🌴 It's ON! Join our
Weekend Challenge HERE
What Is Your Favorite Color?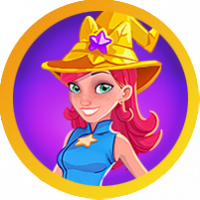 SeraphicStar
Posts: 4,537
Superstar
I was curious as to what everyone's favorite color was, and so I decided to make this poll to see what was the most popular! 😆
I know there's only 10 choices here, but it's not really possible for me to list every color out there heh... 🤔 (There's too many, and I'm only allowed 10 choices lol 😋)
I'm looking forward to seeing what you guys vote for! 😁
What Is Your Favorite Color?
This is a public poll: others will see what you voted for.
Leave a Comment