🏅Badges! Join the Weekly Race
HERE
and share your scrapbook
HERE
🍩 Friends Battle Royale! Vote now
HERE
🌈New in the Community? Say Hi
HERE
🦝 Rachel's back in town! Tell the studio what you think
HERE
💰 Guess which is our sweet raccoon's art style and win Gold
HERE
🌴 It's ON! Join our
Weekend Challenge HERE
Tiffi steps in red gooey stuff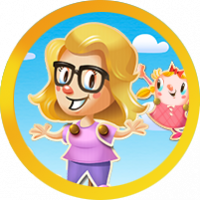 Elsa
Posts: 31,496
Community Hub Moderator
On her way back home through Chocolate Mountains, Tiffi sees this red gooey stuff.  "Oh my goodness, it's stuck to my shoes, " she says. As she continues walking she seems to be spreading this red stuff.  "Oh no, what have I done?" 
What's happening? 

Tiffi has reached the jam levels.  Please help her spread the jam. To finish a jam level, you will have to spread the jam everywhere (on every space), which is done by matching candies or making and using special candies. The jam will then spread over to all candies without a jam square under them.
Where is Yeti?  Tiffi could use his help but he is nowhere to be found.  She arrives at Lemonade Lake  and now she sees love hearts.  She is willing to help but first she needs to find a way to get those hearts into the candy shaped mold.  "Yeti would be very good at doing this," she said to herself.  She thinks that she has it figured out.  If she makes candy matches next to the hearts that will allow them to move their way along the track to their mold.  Speaking out loud Tiffy says, "That is pretty neat!  I think that I am going to enjoy doing this."
As the day comes to an end, Tiffi heads back to the Candy Kingdom.   She is exhausted but so excited that she was able to help some of the players with their levels.  Perhaps she will stop to visit Yeti and tell him all about her adventures.  Let's see what happens next.
If you arrived here, you might want to start at the beginning .....

🌈_________________________________ 🌈_____________________________ 🌈
This discussion has been closed.