🏅Badges! Join the Weekly Race
HERE
and share your scrapbook
HERE
🍩 Friends Battle Royale! Vote now
HERE
🌈New in the Community? Say Hi
HERE
🦝 Rachel's back in town! Tell the studio what you think
HERE
💰 Guess which is our sweet raccoon's art style and win Gold
HERE
🌴 It's ON! Join our
Weekend Challenge HERE
Tiffi finds the right character to help Red Rabbit!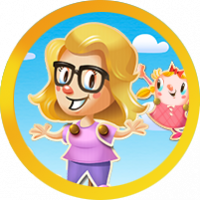 Elsa
Posts: 31,496
Community Hub Moderator
"I'm sorry, Red Rabbit," she says.  "I didn't expect to get so much interruption when you need my help."
Hippity Hop……………. Hipity Hop………….. that looks like Tiffi over there ……………. Hippity Hop.
"That's it," says Tiffi.  "We can get help from my friend Valentin Fluffybun!  He has his special heart bow and arrow and maybe if he shoots it at you, you will become so adorably cute that all the little girl bunnies come running up to see you."
"Valentin, do you have a few free minutes?" she says.  "Red Rabbit here could use your help."
"I want to find love and romance, " Red Rabbit says.  "All my brothers and sisters have had lots of romantic success, spawning lots of baby rabbits.  And I have no clue how to find love."
"Sure, I can throw my heart bow at you," Valentin says.  "But you already have love in your heart.  It's been there all this time.  I think that maybe you didn't trust enough to let that love come out.  But it's been there all this time.  You love Tiffi right?  You love all her friends right?  So you have that love in your heart.  Maybe just a little heart arrow for you so that it allows that love out for others to see."
With that, he shoots a tiny heart bow at Red Rabbit.  Zap!
"It worked," says Tiffi.  "I can see his love now.  Red Rabbit you have the biggest heart full of love.  Thank you Valentin!  With that Valentin Flufflybun started hopping away.
Red Rabbit is so excited and he can't wait to meet up with his brothers and sisters and show off his heart filled with love.  He hugs Tiffi and goes on his merry way.
It's time for Tiffi to go back home.  Mr. Toffee hasn't seen his adopted daughter in quite a while and he is probably anxious to find out all about her adventures in New Jersey and how funny it was for her to live just down the block from Elsa, the King Superstar.  Hope they didn't spend too much time playing Candy Crush! 
As Tiffi started her journey home, she remembered how Olivia loves telling stories.   She would definitely want to know about Red Rabbit and how he always had that love inside of him but had no clue that it was there all along.
Olivia, is now 54 years old and she lives in Wafer Wharf.  She really is a great storyteller and entertainer.  She is bad at multitasking, dislikes conflict, but she is a great chef!
Olivia has been around the block. She comes from a board game called "Squid Row," a competitive deep sea game of battling cephalopods, where the tensions can get pretty high pretty fast. Consequently, she's become emphatically conflict avoidant. She's adopted a humorous, entertaining seafaring persona to mollify any arguments and distract from any disagreements. Her funny, singsong is a natural born peacemaker. And she really wants to show her stuff and break in to "the moving pictures".   Whenever she's in a crowd she tells them stories and sings them songs.  She gets everyone singing and dancing. 
Great idea!  Tiffi will have to contact Olivia and tell her all about today's adventure.  She will be great at writing a great story about Red Rabbit.  After dinner, she plans on writing down today's adventure and putting it in a bottle to send to her sister Kimmy. 
And off she goes……………………  


🌈_________________________________ 🌈_____________________________ 🌈
Leave a Comment