🏅Badges! Join the Weekly Race
HERE
and share your scrapbook
HERE
🍩 Friends Battle Royale! Vote now
HERE
🌈New in the Community? Say Hi
HERE
🦝 Rachel's back in town! Tell the studio what you think
HERE
💰 Guess which is our sweet raccoon's art style and win Gold
HERE
🌴 It's ON! Join our
Weekend Challenge HERE
Red Rabbit I'll see you soon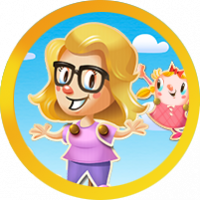 Elsa
Posts: 31,496
Community Hub Moderator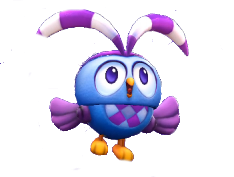 Flying up above she sees her friend, Odus.  He is now 110 years old and spends most of his time in Glittery Grove and Candy Town.  He is a dream but easily scared.  He is a close friend of Tiffi and a dream creator for Baroness. 
Odus is a mysterious owl, born on the even more mysterious Marshmallow Moon. Moon Owls can create vivid dream landscapes for the inhabitants of Candy Kingdom - Odus and Tiffi are friends due to meeting in her dreams.  Odus became the first Owl to travel from the moon to the groundlands.  He wanted to meet candy characters in real life. It has been a bumpy road, because he keeps falling asleep during the day, but the open and welcoming creatures of the world always do their best to make Odus feel at home.
Tiffi waves to him and he flies off.  "Wonder where he's going," she says.  "Maybe he's going to help some players since he now has these special powers.
She finally makes it to the store and gets the carrots for Red Rabbit.  Then she sees the chocolate that Yeti really loves so she decides to pick some up for him too.  Who is that barking over there?

🌈_________________________________ 🌈_____________________________ 🌈
Leave a Comment