🏅Badges! Join the Weekly Race
HERE
and share your scrapbook
HERE
🍩 Friends Battle Royale! Vote now
HERE
🌈New in the Community? Say Hi
HERE
🦝 Rachel's back in town! Tell the studio what you think
HERE
💰 Guess which is our sweet raccoon's art style and win Gold
HERE
🌴 It's ON! Join our
Weekend Challenge HERE
Tiffi needs Yeti's help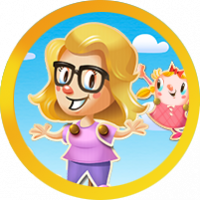 Elsa
Posts: 31,496
Community Hub Moderator
Mr. Yeti is 900 years old.  He is 6' 6" tall and weighs 800 lbs.  He is a neighbor and best friend of Mr. Toffee.  He is also uncle to Jenny (Candy Crush Jelly Saga).  He is a laid back, friendly, protective, clumsy, helpful and sleepy character.  He likes eating and chocolate is his favorite food.  He dislikes alarm clocks and chilli peppers. 
He is dependable and friendly to everyone he meets. He and Mr. Toffee have been dear friends since they were very young.  He came to Candy town from the remote Chocolate Mountains, and now runs his shop right next to Mr. Toffee's Candy Shop.  He enjoys the simple pleasures in life. Yeti is easily the most chilled-out dude you'll ever meet, but in the face of danger he is a true knight in shining armour.  For Yeti, the most important things in the world are a good night's sleep (accompanied by naps during the day), and family.
"Yeti, Yeti are you home?" questions Tiffi.  "He's not answering the door so he must be taking his afternoon nap". 
Just as she starts to walk away, Yeti opens the front door.
"Tiffi, it's great to see you again," he says.  "What happened that you are back home again?  The last time I heard from you, you were living in New Jersey and on the same street as our Superstar Elsa."
"Red Rabbit called me on the phone," she says.  "He sounds so down in the dumps and really feeling sad, so I told him that I'd come back home to help him."
"I'd join you in your adventure," says Yeti, "but I haven't taken my nap yet and I am really, really exhausted.  I shouldn't have made that trip back to Chocolate Mountains to get more of that yummy chocolate.  It tired me up!"
They hugged and Tiffi promised to visit him when she got back home.  Follow along with Tiffi's adventure here.

If you arrived here, you might want to start at the beginning .....    


🌈_________________________________ 🌈_____________________________ 🌈
Leave a Comment