Let's have a fashion show!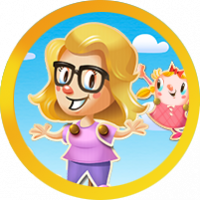 Elsa
Posts: 33,405
Community Hub Moderator
Tiffi and her friends are so excited about all the outfits that are being made for them.   We already know how energetic she can be, but she is bubbling with joy.  She speaks with her friends and asks them if they'd like to be in a fashion show.
"You can try on all your outfits," Tiffi say.  "I want to show off all that I have, so what do you say?  Should we do it!"

The enthusiasm and excitement spreads among her friends.  Red Rabbit is so excited, and he can't wait to show off his new leather jacket.  Tiffi wants to show off her new Thanksgiving outfit.  Bubblegum Troll is a bit sad.
"Tiffi, I would love to do it, but I don't have as many outfits as all of you," he says.
She reassures him that he is the King!  He's got the best outfit of them all!  Tiffi is really a good friend.  She always points out the good in people.  Bubblegum Troll realizes that she might be right and so his sadness leaves him.
"Tiffi, call Elsa," says Rachel.  "Maybe we can include her in our plans and get her help on how to organize all of this."
Excellent idea!  Tiffi calls Elsa and tells her what they would like to do.  She asks Elsa if she could help them organize it.  Suddenly Tiffi starts jumping up and down with excitement.  Elsa agrees and plans are made to meet tomorrow at the Candy Crush Friends Saga studio at 12:00 CET.
Follow along and let's see what Elsa has in mind here.

🌈________________________________________________________ 🌈
Leave a Comment