🦝 Rachel's back in town! Tell the studio what you think
HERE
💰 Guess which is our sweet raccoon's art style and win Gold
HERE
🌴 It's ON! Join our
Weekend Challenge HERE
(ENDED) Win 30 Gold bars with the BubbleGum Troll 🌟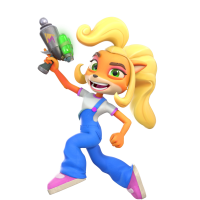 QueenMia
Posts: 12,472
Community Manager
🌟 No account yet? Register here in just 2 seconds 🍭
Hello Community 👋
Whether we love him or not, the BubbleGum Troll tickles us all! 👉And if you could tell him one thing, what would it be?
Tell us below for a chance to win 30 gold bars!
Simply comment below to let us know what you always wanted to tell our King Chewie for a chance to win! 
🌟 5 lucky winners will be picked and receive 30 Gold bars each 🤩
Good luck everyone and happy playing 🍒
You have until Wednesday 1st of July 13pm CET to participate!
You can read the Terms and Conditions here.
No account yet?
Sign up here i
n 2 seconds!
Leave a Comment