🏅Badges! Join the Weekly Race
HERE
and share your scrapbook
HERE
🍩 Friends Battle Royale! Vote now
HERE
🌈New in the Community? Say Hi
HERE
🦝 Rachel's back in town! Tell the studio what you think
HERE
💰 Guess which is our sweet raccoon's art style and win Gold
HERE
🎉🎈🎊 A SWEET SURPRISE!! Come wish me a happy birthday! 🎉🎂🎁
candycrushinit
Posts: 12,269
Legend
Heeeeeellllllllooooooo Friends community! 🤩
Guess what time it is....drumroll please....... 🥁
IT'S MY BIRTHDAY!!!!!!
🎉
🎉
🎉
Wow, It's been over a year and here I am in this amazing community celebrating my birthday with everyone! For those living around the same time as I am (USA Eastern Time), come wish me a happy birthday and share your wishes with me! I will be so honored to hear them! If any of you are a day ahead and you've already shared your wishes with me, well, it's time for some more fun! I know it's been hard for all of you this year but don't worry! This virus will be gone for good!
As a special surprise, I will tell you some fun things about me in the community!
I joined the community on April 27, 2019. I found out about the community by reading through some articles to find out more about CCS and I found one where it says that I can win gold bars. I clicked on the link and here I am in this magical place filled with ambitious players from all over the world. I joined many of the contests going on and I was out of luck that I didn't win in any of them. Then, I won my first contest in CCSS where I had to find the 10s or something like that. I was happy that I won but I didn't get much gold. So I continued in joining more contests to earn more gold for all of my games. Along the way, I met very cool people who can do more than just play games. They help people and get rewarded big! So I wanted to help other players with their level problems and eventually I got the title of Game Expert, well, only for CCFS but I also help with other Candy games. People messaged me and have tagged me to come and help them and I did. I will continue to do my part in the community and I will have a chance to become Superstar some day. 🌠
I play all 4 Candy Crush games. I play CCSS and CCFS every day on my PC and CCS and CCJS sometimes on my phone. I love to crush candy and beat the crap out of some hard levels. I am in the 4000s and making my way up to the 5000s in CCS, almost to the 3000s in CCSS, on my way to the 1000s in CCJS and continuing my path to the 2000s in CCFS. CCS was the first Candy game I've ever played when I was a little kid. I played it a lot on the computer and on my uncle's phone and absolutely enjoyed playing the saga levels and the Dreamworld levels too! It's sad that it's been discontinued a long time ago. A really funny and ironic thing about it is that all I do is match match match and not focus on the objective and that I always end up failing the level and losing a life. In the Dreamworld levels I'm always the one making Odus fall off the moon. Clumsy little me. I save a lot of boosters and gold bars on both of my devices so if the going gets tough, it's time to use 'em! Use them wisely of course! 🤗
I also play other games too! I play other King games like BW3, FHS, DDS (Diamond Digger), and PPS (Papa Pear). I have my attention focused on one game at a time to keep track of time of events, timed boosters, and unlimited lives. I really enjoyed playing these games as well. I am almost to level 500 in BW3 and have made it past 500 in FHS. Non King games I play are Mario Kart Tour, Helix Jump, Magic Tiles 3, Sugar Smash, and Among Us. You're going to enjoy playing these games! (But be sure to add me as a friend in Mario Kart! 😉)
I am a badge collector! Whenever I see a new badge, I go ahead and take it! Something from special events and contests I am willing to grab. Level badges or certain achievements will depend on my progress in the games. I shall not take a badge for level 3000 in Soda if I'm not past that point yet. If I didn't complete the 6th Anniversary Bake a Cake event, then I never would have deserved that badge. I also do not take badges for the games I do not play, unless somewhat stated. I have collected a total of 164 badges from the past year. That's more than some GEs and SUs can ever earn! I know there are some folks who have earned more than that from coming here earlier, but that doesn't mean I can't enjoy the time to be with you all. You have so many achievements and I can't be more proud of you all! Keep playing in any game and you will reach your goal. 🌟
I love anime! I watch all kinds of anime - including shounen and shoujo. Some are packed with action and filled with fighting/violence while others are thrilling, romantic, futuristic, casual, and filled with magic! You probably have seen me show off my anime flair everywhere I go. Here is a list of anime shows I currently watch and will watch later.
Currently watching:
My Hero Academia (can't wait for season 5! 😆)
Sword Art Online
Hunter X Hunter (I'm on the last season and there has not been a new season in the past 6 years? Come on Togashi! 😫)
The Seven Deadly Sins
What I'm planning to watch:
Fairy Tail
Blue Exorcist
Demon Slayer
Black Butler
Fruits Basket
The Promised Neverland
Naruto (maybe?)
One Piece (might have to start now to catch up in a few years 😅 )
Brothers Conflict
Haikyuu!!
Cardcaptor Sakura
Assassination Classroom
Inuyasha
The only shows I've finished are Sailor Moon and Sailor Moon Crystal. Those were some of my favorites along with My Hero Academia and Hunter X Hunter. I will eventually get to read the manga once I've found a perfect reader to read them all for free.
I love to create anything on Microsoft Paint 3D! I really love to make some pictures of our Candy Friends either for my stories, to change profile pictures, or just for fun discussions. Here are some of the pictures I made with Paint 3D:
Congratulations! (CCFS):
Congratulations! (FHS):
My current profile picture:
Level 1000 celebration:
Hunter X Hunter Nen chart feat. the Candy Friends:
Olivia in Sailor Moon costume (haha lol 😂):
Signature image:
Original profile picture:
I will be creating more in the future. In fact, you can look at more pictures in my stories and tell me what you think of them! 😁
I love to write stories for everyone in the community! So far I have written two stories, which you can check them out right now if you like!
☀️ Friends' Summer Vacation ☀️
And guess what? A third one is coming soon! Can you believe that? What's it going to be about? Take a guess in the comments below! 👇️
I love creating fun wherever I go! I have created lots of fun discussions and games for everyone to play and have fun. Here is a list of all of them in the CCFS community:
Version 2 - Take the last letter and write anything you like that begins with it.
Hard Poll: Which design of Nutcracker do you prefer better?
Post your scrapbook! How many characters and costumes did you get so far?
❤️ My drawing of Nutcracker in an anime style ❤️
The Candy Friends and their Nen types (based off of Hunter X Hunter)
I have posted some great ideas and discussions in other game communities as well! Check out my profile and go to "Discussions" at the bottom (mobile) or to the right (computer) to view them. Don't forget to leave your reactions and comment so that I can know that you saw it and liked it!
I really like having you all here! There are lots of nice people I met in the community, and I am grateful for what they do for me. Even if there's a few of us who know anime or have any writing talent, I am still happy that I got to know you! You people make me happy every day. And you know what? I'm going to become a great Superstar one day! Yep! I wanted to become a Superstar like some of you so bad so that I can help others anywhere in this sweet community. Just like when Midoriya wants to become a great hero like All Might and when Gon wants to become a great hunter like his dad.
So again, I'd like for you to take a moment to wish me a happy birthday and say your best wishes for me. And also share with me your best birthday GIFs and memes and also some anime fanart if you like. That would be wonderful to lighten me up.
Those times have been hard for all of us but we managed to stay home for as long as we could and practice social distancing. This will be over as we know it and we can get back to our normal lives. We got this folks! 💪😉
Happy birthday to me! Happy holidays and happy New Year everybody!
*Last photo edited by me; credits go to its rightful owner
A young soul with a passion for Candy Crush. May all sweet things be with you in life. 🍭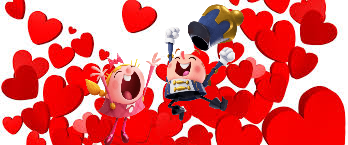 ❤️ CCFS expert. Ask me anything! ❤️

Highest RC Win Streak: 15
Highest Candy Necklace Win Streak: 35

Face masks now MANDATORY in some areas. Please wear them and stay safe.
Stay informed.
😷❤️🦋