Oh no Tiffi!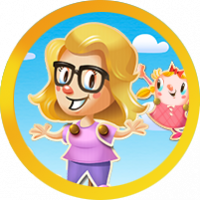 Elsa
Posts: 34,907
Sweet Legend
A couple of weeks later after learning how to ride a horse, Tiffi and Olivia are ready to learn how to rope cattle. They have a different cowboy who offers this training. Olivia tells Tiffi that Chewy will be here shortly. He has to stop to help a player with their game.  
Before they start their lesson the cowboy wants them to watch a video on the best way to lasso.
Well that looks simple enough. Olivia's phone rings and it's Chewy telling her that he can't make it. She tells him that she'll catch up with him later.  
Now time to get back to the lessons. First thing that they have to do is to learn how to swing the rope. Both of them don't seem to have trouble with that. 
"Let's go get your horse now," says the Cowboy. "It's a different thing when you are standing on your feet swinging the rope than being on a horse and swinging it." 
The girls get on their horses and Olivia has no trouble swinging that rope. She's ready to learn how to rope some cattle.  
Suddenly Tiffi's horse gets frightened and is ready to take off. Oh no Tiffi, hold on! Don't let go! 
The cowboy jumps on a horse and takes off after them. When they get back Tiffi has had it! She definitely does not want to be a cowgirl! She is very happy for her friend but this adventure is not for her!  
"I am happy that you didn't fall off the horse Tiffi," says Olivia. "Maybe give it a couple of weeks and then try it again." 
No way! Tiffi has had enough!  
And so this story now comes to an end. Olivia has learned how to be a cowgirl and she is very pleased with what she learned. Since the girls don't have plans for another lesson Chewy is fine with that. There will always be other adventures that they can all enjoy together. But it was a fun experience! 
The End!
Start at the beginning – Olivia wants to become a cowgirl
Leave a Comment