➡️ Have you passed
a milestone level?
Come grab your badges
HERE!
➡️ Need some tips for a
hard level?
Head over
HERE!
⭐️ The Community has a brand new look! Learn what's changed and give us feedback on the new layout
HERE!
🤩 Behind the Jelly Scenes: You asked Nadia and she responded ! (Part 2)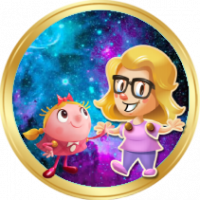 _Elsa_
Posts: 35,997
Sweet Legend
💫 No account yet? Sign up HERE in 2 seconds!
Hi Jelly players,
Towards the end of October we posted a message asking if you had any questions for Nadia, the Art Director of Candy Crush Jelly Saga, and now we would like to present some of your questions and her answers. Here is Part 2 of her responses.
Alex18 - Hi Nadia,
How's life during these past few months?
How did you manage to be part of the Studio and Art Director in CCJS did you do any special studies regarding Designing and Photoshop?
And may I ask what Software's you are using to do Editing?
Hi!
It's been strange! I've been lucky enough to work for King, which means that I've been working from home since March and don't have to worry about putting myself at risk when going to work.
I really miss seeing my colleagues face to face, the random banter at the coffee machine and the freedom that I took for granted from before the pandemic. But most of all I feel really lucky because I feel safe and have not lost anyone close to me to Covid.
I did go to art school, but honestly you don't need that to get a job in the gaming industry. You can learn all you need to get started from the internet. I learned the skills that I needed to get a job mostly after school in my free time anyway.
I started my first job in the gaming industry when I was 21, so that's almost 14 years ago. I joined King 6,5 years ago as a regular artists. Through the years I got more and more responsibilities, and that's how I got to where I currently am.
We use a lot of different software as artists, honestly too many to name. To create our "assets" (the images you see in the game) we use software like Illustrator, Photoshop, Maya and Spine. But that's only one part of the job. We also have to use a lot of different software to then be able to organize our assets, and bring them inside of the game.
lemcbl - Hello Nadia, how many people are there in your team? Is it like that for every game of some games require more people than others? Thanks!
Hello lemcbl, we are about 40 people in total. Including me, 10 of them are artists.
It's very different from team to team and it depends on a lot of different things: How often you release new features, how complicated your game is, how complicated your art pipeline is (do you use 2D mostly, or 3D as well for example), how much of your game happens online. All of these things can influence the size of the game team.
DieOmimi - Is it planned to make the screen clearer? I ask because jelly duel and Royal Championship means the left edge of the screen is so full that I can't really see how I can access my current level. I always have to find a gap to go up a level.
How long have you been working for the Jelly studio? I know it's in Berlin and two years ago players were invited to celebrate Level 2000 and present Royal Championship. Did you work for Jelly back then?
In the community we want to organize a Jelly-Tournier in the German corner, but we have too few players. Can you help us find German-speaking players? Maybe by announcing in the game?
Hi DieOmimi. Yes! In fact we are moving the button for the Royal Championship to the bottom of the screen. The different areas of the game will be more grouped that way.
I joined the Jelly team in the summer of 2019, so I was not part of the Level 2000 celebration. But the team I was in at that point was also in the Berlin studio so I heard a lot of stories about that event!
I love that you want to organize a German Jelly Tournament!! I'll talk to my colleagues and find out what we can do to support this. But since it's the end of the year and the team is working really hard to get some new features out by Christmas, I can't promise anything.
Please feel free to check out all 5 parts:
Comments
Leave a Comment