➡️ Have you passed
level 5000?
Come grab your badge
HERE!
Behind the Jelly Scenes: You asked Nadia and she responded ! (Part 5)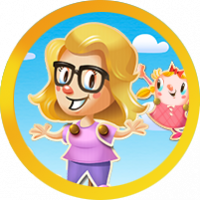 Elsa
Posts: 34,556
Community Hub Moderator
💫 No account yet? Sign up HERE in 2 seconds!
Hi Jelly players,
Towards the end of October we posted a message asking if you had any questions for Nadia, the Art Director of Candy Crush Jelly Saga, and now we would like to present some of your questions and her answers.
This is the last of the Jellylicious questions and answers! 
MicheleHogg - What inspires you when creating the characters, backgrounds etc? How much time do you spend creating the characters? What inspired you to become a gaming artist?
Hi MicheleHogg, I've actually not created any of the Jelly Characters myself. But for my team, it can be all kinds of things. For example for Elsa (from the daily bonus) the original idea came from a game designer. He thought it would be cool to have a candy tree which you need to water so it can grow candies. Then one of the artist wanted to make the tree a flower instead and have her look like a fortune teller. I tried asking where that notion came from, but the artist's brain works in mysterious ways sometimes!
What brought me to be an artist in gaming is really very boring. A love for video games and a love for cartoons, comics and all things art related really. It just made sense.
wykoon – I wish to know how you get your team to work together in designing the game board, creating characters and so on or they are split into teams. Pls share with us your team structure and how they work 😅😅🙏🏻🙏🏻
We have different groups of people with different skillsets. We call those crafts: Artist, Developers, Designers and Testers. They all work in interdisciplinary teams called feature teams. Every feature team takes on either a full feature or a part of a feature. A feature team gets a mission and then decides together how they want to approach it. They first create the "concept" for the feature, then they go into "production" and actually create the feature.
The levels are created by level designers who are part of the Design craft.
I don't play CCJS but I know you and your team has put in a lot of efforts in making the game, characters, background interesting, colourful, vibrant and fun for the players. Thanks a lot and keep up the good work 💕💕💕
Thank you for the compliments! I'll pass it on to the team!
Elthan - Can we expect a dark theme for the game?
Wow, how did you know? It is indeed the plan to visually give the Royal Championship a nighttime setting. However we work on this only when we are finished early with other features, which does not happen too often.
arjankrijger2005 - can we in candy crush saga for that you begin see a picture from the level ? was in the old version can we that put in the new version?
Do you mean a level preview? It's definitely an idea that's been floating around for a while, but it's currently not on the agenda. Because we have a long list of features we want to bring to the players, we have to be very strict with deciding which features we work on first.
 Liana_Centanaro - I want to ask, what is your day-to-day motivation to create content? What is the perfect place to relax and think about the characters? 
A lot of my team members get their motivation from creative freedom and ownership. From working on features they believe in, and from knowing that they are responsible for doing their job well.
I personally like brainstorming with my team. I work better with other people than alone. Nowadays with quarantine that means a videocall with everyone and a virtual whiteboard where we can all add our ideas and discuss them together.
MysticalMisty2 - I have one question, what's the last level available in the game? 
Hi MysticalMisty2. The last episode we released was 218. And the last level was 4165 
CCabot80 - Where did you get the ideas for the characters? 
Hi CCabot80. I've personally not worked on any of the characters in Jelly since I only joined the team last year. But I've asked the team and got quite a couple of different answers.
The idea for Elsa from the Daily Bonus came from a Game designer who thought it would be cool if there would be a candy tree which you had to water.
The idea for the wigglings came out of a brainstorm. The Art team was looking for a visual that could explain the function of the blocker. Something that would suggest that the blocker can "stick" to candies. The team came up with ideas like: Squid, Octopus, Jellyfish, vine plant. The design they went for in the end was chosen because it's glossiness matched the rest of the gameboard, and it communicated the function of the blocker pretty well.
Please feel free to check out all 5 parts:
Leave a Comment