➡️ Have you passed
level 5000?
Come grab your badge
HERE!
Behind the Jelly Scenes: You asked Nadia and she responded ! (Part 4)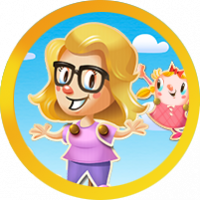 Elsa
Posts: 34,556
Community Hub Moderator
💫 No account yet? Sign up HERE in 2 seconds!
Hi Jelly players,
Towards the end of October we posted a message asking if you had any questions for Nadia, the Art Director of Candy Crush Jelly Saga, and now we would like to present some of your questions and her answers.
Stay tuned for more Jellylicious answers to come very soon!
saw3573 - Where do you get your inspiration.. for me it takes me back to playing candy land as a kid
For us artists the inspiration can really come from a lot of different places. I myself noticed I'm often inspired by cartoons, videogames and books from my childhood.
Ashraf - Another question, since we are in the world of candy, what are your favorite sweets? 
Hi again J. That is such a difficult question! I'm a total sweet tooth so it's very hard for me to only pick one sweet. But I can tell you what sweets I find the most addictive: Licorice and Oreo cookies. If I open a bag, I can't stop eating them until my stomach hurts. That's why I try to almost never buy them,.. but sometimes I can't help myself.  
I have another question.😁
Did you know that...
🔹Nadia is an Arabic name, meaning: dewy, wet from the effect of dew or rain, generous? 🌹
🔸When the dew is mentioned in Arabic poetry, it is always meant the drops of dew on the roses in the morning. 😊🌺
Wow, thank you for that! All my life I though Nadia was a Russian name and meant Hope.
Sharon_Loose - Hi Nadia I think if I started singing your cat would run away from me too 🙀 I was wondering how long it takes to do the artwork for each new episode and how many people are involved at any given time. 
Hi Sharon Loose. It would take 3 artists 2 weeks to create the artwork for each episode.
yonahselcy - Hi Nadia! I have to ask you how did you choose to become an art director in Candy crush jelly saga? What did you study to become Art Director? And how old are you? Though I don't play this game I would love to know the answers 🤗😊
Hi Yonahselcy!
It was the Royal Championship that made me want to join the Jelly Team.
I went to Art School, but honestly working as a game artist many years, and being mentored by more experienced people at work, is what really prepared me. I'm 35 years old now.
 Please feel free to check out all 5 parts:
Leave a Comment