Fantastic Five - Custom Team feature information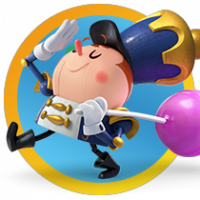 Pounawea
Posts: 3,847
Community Manager
Hello Candy Crusher,
Warm welcome to the Fantastic Five - Custom Team! 👏 🥳
As you all know, last week we started a Community Play Test, some of our community members got together and volunteered to participate and play the feature before its released in the game. This week, we are slowly releasing it to some more players around the world.
Let's get some information around our forum so we already know a few things about this feature!
The Fantastic Five - Custom Team is a great way for committed Candy players to join forces with others to receive some great rewards. You can reach those rewards even faster, playing alongside your customised Candy Crush Saga friends and family!
Click/Tap on the links below to read more information:
👨‍👩‍👦‍👦   New to the Community? Sign up HERE in 2 seconds!
This discussion has been closed.