🏆️
Candy Cup!
Find out everything you need to know
HERE!
🥳
Want to be a part of Candy Crush Saga's 10th anniversary?
Preview of what's coming soon
More Info HERE!
❤️ 📅 Valentine's Day Event Calendar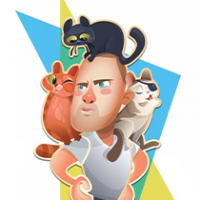 Crazy Cat Lad
Posts: 14,139
Community Manager
❤️ New to the Community? Register here in just 2 seconds!
Love sweet love! 
Valentine's Day is coming and you can really feel the love all around in Candy Crush Saga this year.
We're starting the Valentine's love celebration already on 1 February with turning all purple candies in the game into hearts!
You will also find the following events in the game.
Secret Crush - Purple candy challenge 
3 - 8 February & 10 - 15 February
Misty accidentally ate the whole box of candies she bought for her date on Valentine's Day. She is now desperate and needs your help to collect new candies!
The purple candies in the game will be turned into heart-shaped candies these weeks before Valentine's Day!
Collect these lovely purple heart candies on your regular Saga map levels to help Misty and also compete against other players to win lovely rewards. 
On the leaderboard, you'll find all scores, your position and how many candies you have collected so far. When the challenge ends, the top players on the board will win rewards. You can find the scoreboard under the Events tab. 
How many purple heart candies do you think you can collect before Valentine's Day?
Secret Crush Event (3 - 8 Feb): How many Purple-heart candies did you collect? 💜💜💜
Secret Crush Event (10 - 15 Feb): How many Purple-heart candies are you going to collect this time? Let us know HERE 💜💜💜
Saga Stories - Nutcracker's Secret Crush
1 - 5  February
Nutcracker has a secret admirer and he is trying to figure out who it is! Follow the Valentine's Saga Story on your map by keeping an eye on the candy wrappers.
Not only will you find out who Nutcracker's secret admirer is, you will also get sweet rewards on your way through the story.
Who do you think the secret admirer is? Will Nutcracker be happy or disappointed?
Special Delivery
4 - 8 February
11 - 15 February
Keep an eye on the mysterious doors with a heart on the Saga map.
A special delivery with love will appear when you reach the doors and remember to get to there before the time runs out!
Who do you think will open the door when you get there?
Yeti's Love Potion Challenge
9 - 14 February 
In Yeti's Love Potion challenge there are three missions and you will have two days to complete each one. The more missions you complete the more Boosters will Yeti reward you with!
First mission 9 - 10 Feb: Complete 12 levels in the game
Second mission 11 - 12 Feb: Complete 4 levels with Sugar Stars
Third mission 13 - 14 Feb: Complete 7 levels with a Golden Crown
Yeti will give out all rewards from the missions on Monday 15 February.
Do you think you'll complete all three missions? Let us know HERE
The sweet celebration of love is not only happening in the game!
Celebrate Valentine's Day in the Community as well and get an exclusive Candy Crush Valentine's Day badge HERE.
Heart level challenge
By playing a "heart level" in the game, you can win Candy Hammers and Unlimited Lives to your game here in the Community. Head over to the competition and more details HERE.
💖 Happy Valentine's Day!
🔛 Click/Tap  HERE  and go back to your Candy Map! Play Now!
__________
Other Community recommendations:
And now, we are adding 2 new activities:
❇️ 🍪 🍬 Bonbon Blitz - New feature in Candy Crush Saga! More info HERE!
❤️💕💖 Win Gold Bars with the 2021 Valentine Community-Wide Contests! Find all the information HERE
🔛 Click/Tap  HERE  and go back to your Candy Map! Play Now!