Level 9000 in Candy Crush Saga: coming soon!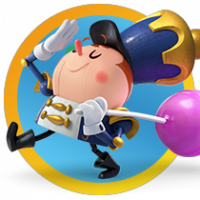 Pounawea
Posts: 3,748
Community Manager
Dear community,
This week, we will be reaching an incredible milestone in the game and we want to celebrate it with all of you!
Let's start celebrations and welcome Level 9000 in Candy Crush Saga! The update with level 9000 will come to the W10 app on 10 March, to Facebook and mobile devices on 24 March. Join the community celebrations now and don't miss out on the chance to win some prizes:
🐈️🍬 Celebrate level 9000 with us and win Gold Bars! HERE
Have a delicious day everyone and happy crushing. 🍬 🍬
👨‍👩‍👦‍👦   New to the Community? Sign up HERE in 2 seconds!