🍬🕹️🤼‍♀️ Yeti's Candy Tournament - Week 5! (ended)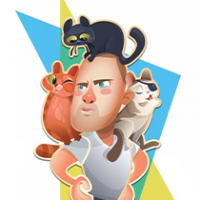 Crazy Cat Lad
Posts: 14,137
Community Manager
👨‍👩‍👦‍👦 New to the Community? Register here in just 2 seconds.
It's time for Week 5 in Yeti's Candy Tournament!
You can find all details about the whole 15-week tournament HERE.
What is the quest this week?
The quest Week 5 is to get a Golden Crown on a level, meaning to complete a level on the first try.
This will need to be a new level. No old Crowns will count in the Tournament.
How to participate? 
Take a screenshot of your Saga map where you have a Golden Crown on your previous level and the avatar is on the level after. Post it on this page here to participate and compete in the tournament. As mentioned no old Crowns will count, therefore the avatar needs to be on the next level when you take the screenshot.
The screenshot will need to be of the whole Saga map and screen where the avatar is fully visible .
What can I win?
For each completed quest you will progress in the tournament saga map (above). Five of the tiers will give you an exclusive badge here in Community. The more quests you complete, the more badges you can win. Find all about the ranks and badges on the Tournament main page HERE.
On top of that!
Each week we'll also pick three players who completed the quest that will win 15 Gold Bars to their game.
Remember…
...to post your screenshot before 14 April 2021, since when the quest of Week 6 starts, this quest will close and you can no longer participate in Week 5.
Good luck!
The participation for this quest will end on 14 April 2021 at 05:00 EST/ 11:00 CET and you can find the Terms & Conditions here.
This discussion has been closed.