🐢
Candy Creative Season!
More info about the Candylicious events
HERE!
🔮
Magic Shuffler -
New Booster in Candy Crush Saga!
HERE!
🏃
Candy Spring Race!
Collect badges and win Gold Bars
HERE!
🔟🏆 Level 10 000 in Candy Crush Saga is here! Claim your exclusive badge now!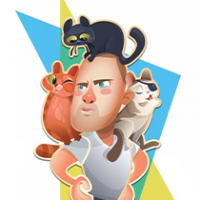 Crazy Cat Lad
Posts: 13,551
Community Manager
👨‍👩‍👦‍👦 New to the Community? Register here in just 2 seconds.
Level 10 000 in Candy Crush Saga is here!!
The ten thousand sweet level in the Candy Kingdom will be released on W10 the 11 August, then on mobile and Facebook on the 25 August 2021.
Are you one of the few super crushers of millions of players around the world who completed all levels up to 10 000? Then claim your Level 10 000 badge and also get the chance to win 10 Candy Hammers!
Simply post a screenshot of your Saga Map where you can see your avatar and that level 10 000 is completed to get this exclusive Level 10 000 badge in the Community:
On 15 September we'll also pick 10 players who completed Level 10 000 and send 10 Candy Hammers each to their game.
Even though you aren't that high up on the Saga map, you can join the Level 10 000 celebration!
On 23-30 August, keep an eye for Mr Toffee's Secret Vault in the game. If you beat the challenge, you will have the chance to play level 10 000 and also win a sweet reward the week after in a special Level 10 000 event. Find more details about the event and how all players can play Level 10 000 HERE!
We also have an exclusive Candy Crush 10 000 gif here in Community for you to download and share to spread the sweet celebration!
Download the gif from here:
You have until 15 September 06:00 EST/ 12:00 CET to post the screenshot and win the Boosters and to claim the badge. Terms and conditions here.
The fun goes on in the Candy Crush Community forums.
Did you reach and complete Level 10 000 recently? Fantastic! Then, head over to the Level 10 000 Club badge and collect yours!
This discussion has been closed.