🎃
Halloween in Candy Crush Saga!
Find all details
HERE
✨
All Stars US!
Find all info and claim your star badge
HERE
🌶️🍬 Hot & Sweet right now in Candy Crush Community!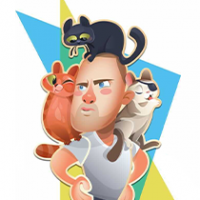 Crazy Cat Lad
Posts: 11,464
Community Manager
👨‍👩‍👦‍👦 New to the Community? Register here in just 2 seconds.
Welcome to the Candy Crush Community!
Here you can find all hot and sweet topics, threads and trends.
What's the latest release and highest level in the game? Find all info HERE.
Leave feedback on the new levels directly to our Level Designers HERE.
Sssweet and ssslithering. The Candy Cobra is HERE!
Sam's Streak - Candy Necklace with a new sweet addition. All details HERE.
Chocolate Box Deluxe - new updated Chocolate Box with bigger rewards. Find more info HERE.
All Stars US - The biggest American Candy Tournament of the year. Check it out HERE.
15 Best tips & hints on how best to play and enjoy Candy Crush Saga HERE.
Halloween in Candy Crush Saga. Find all in-game events and sweet bonuses HERE.
Help Tiffi in the kitchen to make her grandma's pumpkin pie. Gold Bars and UFO:s to win HERE.
Trick or Treat? Which one would you choose? Claim your Candy Halloween badge HERE.
The Royal Court of Candy Crushers. Nominate and find all Candy Crushers of the Month HERE.
Candy Crush Level Clubs:
Level 1000, Level 2000, Level 3000, Level 4000, Level 5000, Level 6000, Level 7000, Level 8000 and Level 9000.
Poll of the Week - Halloween 2020 vs 2021. Vote HERE!
Which Yeti are you on a hard level? Vote and comment your player type HERE.
Where are you playing from? Let us know HERE!
Fishing Tournament with Licorise - Collect badges and win Gold Bars HERE!
Find the most common issues and questions HERE in the Support section.
New to the Community? Find your guide for Newbies HERE.
Chocolate Box - Server Error! Find more info and help HERE.
Sam's Streak - Connection issue, please check HERE.
This discussion has been closed.