⛔️
Temporary server and connection issue!
Find more details and help
HERE
🎃
Halloween in Candy Crush Saga!
Find all details
HERE
🍰
Baking Adventure!
Exclusive preview on what's coming to the game
HERE
📿🍬 Candy Necklace - updated with a new sweet addition!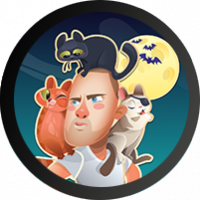 Crazy Cat Lad
Posts: 11,513
Community Manager
👨‍👩‍👦‍👦 New to the Community? Register here in just 2 seconds.
The Candy Necklace will soon be updated with a new challenge, within the challenge!
Stay tuned for Sam's Streak!
This is the sweet win streak feature where you need to win various levels in a row to gain Boosters on the levels you play. The more levels you win in a row, the more Boosters will get added on each level.
Now in September you will be able to compete with other players in this challenge as well!
How does Sam's Streak work?
For every level won in the game and progress in the Candy Necklace you will get points in the challenge.
The amount of points depend on how high up you are on the Candy Necklace your win streak. The higher up, the more points for each level won.
If you keep your win streak progress on the fifth and last step on the necklace, you will get the maximum points in the challenge for every level you pass.
When losing your win streak you'll start all over again on the Candy Necklace, but you will keep all your collected points so far from previous win streaks. No previous points will be lost.
How do I win?
The points you collect are added up and you can follow your score and position on the leaderboard in the challenge.
You will compete against others in a group of 15 players and the event will run 1-3 days each time. To win a reward, you will need to be in the top when the time is up.
What can I win?
The top 7 players on the scoreboard will win sweet rewards.
The top winner will get the ultimate Party Booster! Positions 2-7 will win each a mix of 1-3 of the other Boosters.
Are you on fire and ready to crush another sweet challenge?
Stay tuned, Sam's Streak is coming soon to the game!