🏃
Candy Spring Race!
Collect badges and win Gold Bars
HERE!
🕑️
When do you play Candy Crush?
Let us know and win 24h Unlimited Lives!
HERE!
🐨👸💃💪
What Candy Crush player are you?
Find out and claim your personal badge
HERE!
👑 A Kingdom Exclusive Live Virtual Event with Christabel and Jack. Will you join?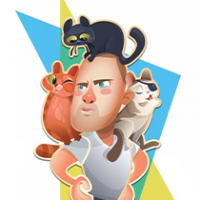 Crazy Cat Lad
Posts: 13,502
Community Manager
You're in store for another Kingdom Exclusive Live Series - event! 
This time our lovely hosts, Christabel and Jack from the Candy Crush Saga Team have a colourful agenda planned - full of sneak peeks.
Connect with us on the day to see what new events are coming up in your favorite Candy Crush Saga game!  
Don't miss out on this SWEET opportunity! 
This virtual event takes place on Tuesday, November 23rd, 2021. 
USA:
9:30 am USA West Coast (PST)
11:30 am USA Central (CST)
12:30 pm USA East Coast (EST)
EUROPE:
5:30 pm UK (GMT)
18:30 Central Europe (CET)
This is an online event, we will be connecting via the Zoom platform.
Full joining instructions will be sent in the confirmation email that you'll receive on registration.
Note!
This is a webinar-style event, therefore your video and audio will be disabled throughout. Chat and Q&A features are operational, so feel free to use them and chat to us and other players.
IMPORTANT!
By signing up for the event you agree that you will not disclose information to anyone or use it for any reason other than attending our King Virtual Hang-Out. Photo or video footage of our information cannot be taken. Publicly-disclosing information online (blog, social media) is prohibited.
Sign up now already?
👨‍👩‍👦‍👦 New to the Community? Register HERE in just 2 seconds.