🎵
Music Festival!
Find all season events in August
HERE!
💰️
Pot of Gold!
New golden event in Candy Crush Saga. Find more details
HERE!
☀️
Where do you play Candy Crush Saga summer 2022?
Share your plans and win 24h Unlimited Lives and a Party Booster!
HERE!
🏖️🍦 Sweet Summer Season Part 1 - The Beach Season!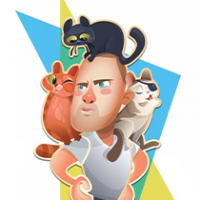 Crazy Cat Lad
Posts: 14,034
Community Manager
The Summer is finally here and in Candy Kingdom it's sweeter than ever!
Welcome to the Beach Season, the first part of the summer in Candy Crush Saga.
The first part of Sweet Summer Season will start on 4 July and continue until 31 July.
The theme is beach, ice cram and just relax until the second part will take over on 1 August - The Music Festival Season!
Here's the highlights on the beach in July:
Olivia's cool ice cream challenge to collect specific candies on your regular Saga levels.
Four 3-day events with a new colour and a new ice cream every game round. Collect all candies and Olivia will treat you!
6 - 9 July Collect Green Candies
9 - 12 July Collect Orange Candies
12 - 15 July Collect Blue Candies
15 - 18 July Collect Purple Candies
Tiffi is delivering sweet and cool treats to all her friends in Candy Kingdom.
Follow the story on your Saga map and claim your own treats on your way.
Tiffi is giving out ice creams Monday to Thursday every week!
Pick a car on the Carnival Climb and get a sweet reward for every car you pick.
Watch out for the Bubblegum Troll. If you pick the wrong car, you may lose all your collected rewards. So make sure to quit in time!
The Carnival is open from Friday to Wednesday every week!
(event cancelled until further notice, more info HERE)
Time to get on your bikes and race towards the music festival that is starting in August!
Two challenges where you compete against other players on a leader board.
Make sure to come top 10 to claim a reward. The top player will get an extra sweet reward!
21 - 24 July The first challenge is to collect Sugar Stars on your levels.
28 - 31 July The second challenge is to match as many Color Bombs you can on your levels.
More sweet summer surprises and bonuses in Community!
What's your favourite ice cream? Share your cool favourites and claim your badge HERE!
I scream ice cream! Win 24h Unlimited Lives and Color Bombs HERE!
Where are you playing Candy Crush this summer? Share your summer plans and win 24h Lives and a Party Booster HERE!
Starting on 1 August!
More info coming soon...
👨‍👩‍👦‍👦 New to the Community? Register HERE in just 2 seconds.