🎃👻🕸️ Halloween 2020 - Sweeter and spookier than ever in Candy Crush Saga!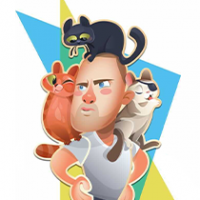 Crazy Cat Lad
Posts: 9,983
Community Manager
🎃 New to the Community? Register here in just 2 seconds!
This Halloween will be spookier and sweeter than ever in Candy Crush Saga!
Get ready for all the coming events, challenges and sweet treats the following weeks. 
Mark your calendars with these dates and happenings so you won't miss anything this Halloween.
Remember also to update the app on mobile to the latest version! Some older version may not be able receive or run all the events.
The Spooky Skulls Tower event!
26 October - 1 November
Complete bonus levels with the new Sour Skulls and win sweet rewards!
You can find the Spooky Skulls challenge under the events tab in the game and for more details about the event, check HERE.
Pumpkin Pursuit
28 October - 1 November
This Halloween even the candies will be haunted in the game! At least the orange candies that will be turned into Pumpkin Candies.
Match and collect as many Pumpkin Candies as you can and compete with other players. You can find the leaderboard to see your position under the game's events tab. More info on the event HERE.
Halloween Treasure Hunt: Trick or Treat
31 October - 3 November
Join Tiffi on trick or treating in the game! 
Several mysterious doors will appear on the saga map. When you reach a level that has a door, someone will open it and give you a sweet treat! 
There will be three doors you can knock on and get a reward from, but remember to get to there before the time runs out.
Who do you think will open the door? What treat are you hoping on to get?
Help Tiffi to find all Sour Skulls and win a Party Booster
16 October - 6 November
The sweet challenges are not only available in the game!
Help Tiffi to find all Sour Skulls here in the Community and get the chance to win the ultimate Party Booster. You can find the competition HERE.
Community Level Race
23 - 30 October
Complete 15 levels in one week and get an exclusive badge here in Community, but also get a chance to win Gold Bars! Head over to the first race HERE.
30 October - 6 November
The second race this Halloween is to complete 30 levels in one week! Do you think you have what it takes to beat this? Check all info and start the race HERE.
Which of the events are you looking most forward to?
Do you think you will beat all of them?
Will you be busy playing all the events in Candy Crush Saga this Halloween?