Are you at the top of the Saga Map? Share your opinion! ⭐️ 📮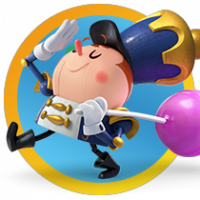 Pounawea
Posts: 3,742
Community Manager
Dear Candy Crushers,
As you know, we are always trying to improve your experience in the game.
Today, we would like to ask a question to all our Candy Crushers at the very top of the Saga Map!
If you are currently waiting for new levels or in any level of the current last 3 episodes of the game, please help us with your feedback:
We are working on an amazing new event! The mechanics will be very similar to the Twilights Games event but, thanks to all your feedback (only 45 levels available to participate and reach the top 10 positions in the weekly leaderboards), we are thinking of ways to improve your experience in the game. The question is the following:
If you could choose to participate in (and see in-game) 1 of the following events, which one would you prefer?
Vote one of the options below 👇👇👇 and also share all your feedback in the comments!! We look forward to reading your opinions. 🌟
Are you at the top of the Saga Map? Share your opinion! ⭐️ 📮
90 votes
👨‍👩‍👦‍👦   New to the Community? Sign up HERE in 2 seconds!