🍫
Chocolate Box
Server Error/ Box missing or disappeared! More details
HERE
⚠️
Need help?
Check our FAQ:s first
HERE
What is the ribbon wrapped around the candy mean?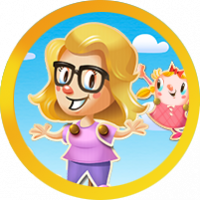 Elsa
Posts: 34,578
Community Hub Moderator

This is what our Community Manager wrote about this:
"The Party Candies are coming to Candy Crush. Now you will find ribbons in some candies (beginning with bronze, moving to silver and finishing in gold). The theme is around a party celebration! Finding all wrapped gifts on the board and finishing the level will allow you to keep those boosters.  It begins with a bronze bow as part of the puzzle. Once the player removes the bow the bronze mode gets activated and from then on is a matter of removing the pieces that have a bronze ribbon to it. At a point, you activate silver mode (which is the reward you get from the bronze mode).  In silver mode, you can get three rewards that you can use immediately on the board + access to the gold mode.  The gold mode will give you a party booster that you can use on that board (you cannot save it for later)."
Below are two print screens showing you how it works.  The first print screen shows you that there are green candies wrapped with ribbons. The second print screen shows you what happens when you make matches with them.  I matched the 2 ribbons candies with the green candy on the right and they turned into green striped candies. 

As you progress through the game you will begin to see the ribbon moving up to the top.
And then you will make it to the end and the party booster will appear on the board exploding everything in site!
 Now isn't that cool?

This discussion has been closed.