📣 📩 Email notifications: customise your experience in the forum!
HERE!
🏆🥇 Win Gold Bars and exclusive Community badges
HERE!
// 🗳️ CCS Boosters: Vote for your favorite and tell us why
HERE!
// 🌟 What level are you on...Today?! 🙌
HERE!
// ➡️ 🔔 Don't be shy and say Hi!
HERE!
// 🌟 🌟 What Candy Zodiac sign are you?
HERE!
Candy Crush Saga 7012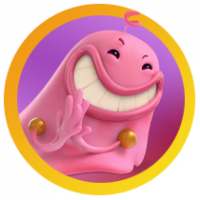 Johnny_Crush
Posts: 118
Level 3
All 3 cherries are on the starting board and in order to collect them you have to clear the left side of the board first and then the right side
because they travel through the teleporter located at the bottom of the conveyor into the left side of the board and from there, through the teleporters,
into the right side where the exits are.
Clearing the left side is not much of a problem because the horizontal stripes that drop every move and the vertical stripes that drop every 3 moves from their dispensers are of great help,
but the right side is much harder to clear.
And a little bit tricky :)
The trick to clear the right side is to destroy one of the rainbow twists that are located between the ingredients when it is at the bottom of the conveyor, in
other words, when that rainbow twist is connected to the others from the right side. If you don't manage to do that, you have one more opportunity: to keep hitting the wraps
that drop from their dispenser at the bottom of the board until the rainbow twist near them is cleared.
Pay attention: an infinite loop of candies may occur when the twists are gone and the chocolate has grown in both sides of the left side of the board but not in the central one.