🔥
Hot Right Now
🌶
👉 Grab your
Protector Badge
HERE
🏅 | Join
Aku Aku's Challenges
HERE
🏆 |
Win Purple Crystals
in the Wumpa Games
HERE
🥭 |
Win more Purple Crystals
in the collection challenge
HERE
💥
Villain or Hero? Find out your COTR Character's name!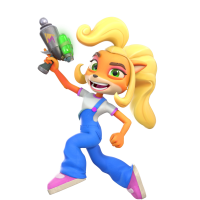 QueenMia
Posts: 12,858
Community Manager
🥭  Join us here in 2 seconds! 🥭
Hey guys!
Ever wonder what your Crash Bandicoot character's name would be? No?! Well, let's find out anyway!
👉 Mine would be Arachnina Crumb  - That sounds pretty villain to me 🕷🦹‍♀️ Mouhahaha ** Insert evil laugh here **
What would yours be, guys?
We know Crash and Cortex shouldn't be mixed but this is just between us... shhhhh! And then you get to decide whether your character is an evil creation of Dr. Cortex or just an unfortunate name for such a nice-good-doing being!
So what are you, villain or hero?
To find out, simply take your day and month of birth and see what it matches with below - Then share your name with us by commenting below 👇👇👇
Bring it on - It's just for fun ✌️
No account yet?
Sign up here i
n 2 seconds!
Leave a Comment