Patch Notes 3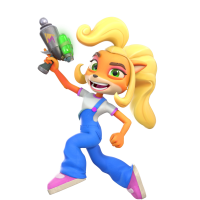 QueenMia
Posts: 12,457
Community Manager
🥭 Join us here in 2 seconds! 🥭
Hi Bandicoots!
We're about to release a new version today and here's what it will bring - Please note that these will be rolled out in stages, so might not be available to you straight away. Be patient, as these will be released to everyone shortly!
So what's new?
🥭 Aku Aku becomes more powerful
Until now, the Aku Aku mask would only save you from crates and selected enemies. With his new strength, Aku Aku will now also protect you from stone obstacles and a majority of Boss attacks. Woah!
🥭 Introducing Dizzy mode
Hitting an obstacle without a mask won't kill you anymore - Instead, you'll get dizzy and see stars for a few seconds. Be careful though, cause hitting an obstacle while being dizzy will kill you!
🥭 What else?
. We've made the Turtle Wood levels easier.
. We've extended the smash radius on Crash's (and Coco's) spin move
. We've Adjusted the tutorial
🥭 Bug Fixes
. The Frosty Neo Cortex crash has been fixed, so he will no longer throw you out of the game on his first attack and you'll stand a chance to defeat him!
. Crash could sometimes be invincible against crates, and we fixed that, too... sorry!
. If there's something in the crate, you'll now get the loot no matter how you smashed it.
Current known issues:
Inferno and Oxide labs have a green background behind the ammo, when it should be their own background.
Some bosses show Dingodile on the boss health top header icon (instead of their own).
There are some art assets in the middle of the run that can be mistaken by obstacles - They can be confusing but they won't kill you!
Some of the texts show between brackets [example].
Some elements are not optimised to be played on a tablet, yet.
When spinning, you'll see Crash with his classic skin regardless of the skin you have selected for the run.
You might lose your progress when connecting the game to your King account.
Entering Privacy & Security options (under King account) with no internet hangs the app on an infinite loop - You'll have to restart the game.
That's all for this time - Thanks guys and keep on running ✌️
No account yet?
Sign up here i
n 2 seconds!
Leave a Comment