Welcome to our Crash on the Run Moderators!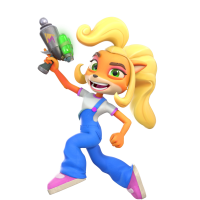 QueenMia
Posts: 12,545
Community Manager
👉 Join us here in 2 seconds! 👈
Hi Bandicoots 👋
I am super happy to announce that we have 2 new Crash on the Run Moderators - Please join me to welcome @MightyWolf and @W35Gamer to the Mods Team 🥳
They are both passionate about the game and bring fun and plenty of Woah energy to the Community!
They are here to make sure our Community remain a friendly and safe place for everyone. They'll help you make the most of the Community, direct you to our top news and hot topics, assist you with your game and add more fun to your time here - Treat them well and they'll go the extra mile to help you out 😉
Want to know more about our Mods? Check HERE!
See you around, Bandicoots, don't forget to have fun ✌️
No account yet?
Sign up here i
n 2 seconds!
Leave a Comment